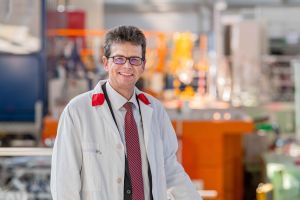 Editorial by Prof. Dr. Peter Müller-Buschbaum (Scientific Director FRM II/ Scientific Director & spokesperson MLZ) © A. Heddergott/ TUM
Dear users of the MLZ,
We miss you and we know that the difficult time without neutrons in Garching puts a great burden on our German and international user community. Thus, coming back to normal operation is our key mission on which we are working hard, and finally, solving the technical issues with our reactor operation is on the right track. As of today, we expect to have the neutrons back mid of 2024.
Meanwhile, we achieved quite some progress for the long-term future of the FRM II. An agreement was found for the conversion of our fuel to lower enrichment. In order to be prepared for the near future, we received fresh fuel elements from our French supplier in mid-July. The replacement of our cold source, however, will still take some more time. The restart of the FRM II next year will therefore provide thermal, hot, and fast neutrons in addition to the powerful positron beams. The beam intensity at our cold instruments will be limited, but all instruments will be in operation. At this time, we also expect the first neutrons at our new instruments in the Neutron Guide Hall East.
Regarding our current instrument suite, we are aiming for a substantial upgrade program, named MORIS (MLZ Organized Refurbishment of the Instrument Suite). We have worked on this upgrade proposal for about one year now, delivered insight at the last User Meeting, and discussed the science case for this major investment with user groups in April 2023. Further details will be reported in upcoming MLZ Newsletters as well as at our next User Meeting, taking place again in Munich from December 4th to 5th. We are looking forward to seeing you there.