Currently, the FRM II is working towards installing a new central channel. The work is progressing and it is planned to provide neutrons for research and innovation again from the second half of 2024.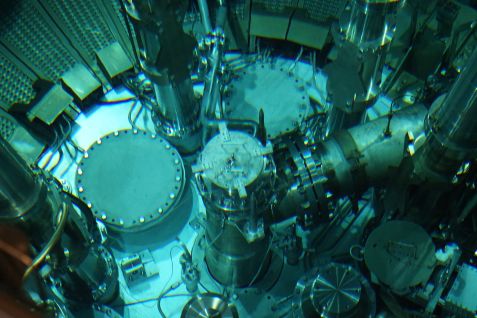 The central channel under the lid in the center of the picture holds the fuel element in position. © FRM II / TUM
The central channel of the FRM II has to be replaced after a small drip leak. In preparation for the anyway scheduled replacement of the central channel, the FRM II had contracted a French company that had already manufactured the original part in 1999 to also manufacture the replacement part. This company is now no longer in a position to carry out important manufacturing steps. Therefore, a new company had to be found that can carry out this difficult work.
"Will pursue schedule with vigor"
The new company from Austria has already been found. It will – under the supervision of the original and certified company – manufacture the central channel with a streamlined schedule until the end of 2023. "We are pursuing this plan with vigor," says FRM II Technical Director Dr. Axel Pichlmaier. According to the plan, after installation and numerous necessary tests in the reactor pool, it will take about another six months before the FRM II can start up again. "We plan to provide neutrons again for visiting researchers and our industrial customers from August 2024," Pichlmaier said.