The Physics Laboratory of TUM provides scientists with techniques for analysis and preparation of samples for subsequent neutron scattering experiments. An x-ray diffractometer for phase determination of powder and solid samples, in-situ battery measurements and for thin film systems is available. Furthermore, a differential scanning calorimeter and a bi-potentiostat are available. A wide range of machines for polishing, cutting, etching or annealing are available for sample preparation purposes.
Please get in touch with the Physics laboratory two to three weeks in advance the measurement so that the equipment can be prepared for you. You can check the current bookings in the Calendar.
Note: Access to the physics laboratory can only be granted after a safety traning has been performed. Please email to Physics laboratory for any questions.
Equipment:
Analytic instruments:
PPMS-Dynacool 14 Tesla
coming soon
Available options
DC Resistance
AC Resistance (

ETO

)
Vibrating Sample Magnetometer (

VSM

)
AC Susceptibility (

ACMS

II)
Heat Capacity
Horizontal Rotator for Transport Measurements
Pressure Cells for Magnetometry (1.3 GPa) and Transport Measurements (2.7 GPa)
Dilution Refrigerator (50 mK – 4 K) for AC Susceptibility, Heat Capacity, Electrical Transport (

ETO

/Resistivity)
Synchronous Source and Measure System M81

SSM

from LakeShore (DC/AC transport)
PANalytical Empyrean x-ray diffractometer
phase and structure analysis
solid, powder and thin films
reflection and transmission measurements
Technical specifications
x-ray tubes: Cu (λ = 1.541 Å), Mo (λ = 0.711 Å)
angular range 2θ = -9° … 120°, d2θ = 0.005°
detectors: GaliPIX3D (2d), X'Celerator (1d), Scintillator (0d)
optics: monochromator (Cu), parallel mirror (Cu), focussing mirror (Mo)
sample stages: reflection – transmission spinner, eulerian cradle
vacuum/temperatur stage: T = 25°C … 1600°C with inert gas (Anton Paar

HTK

16N)
Bruker D8 x-ray residual stress diffractometer
coming soon
Technical specifications
x-ray tube: Cu (λ = 2.290 Å)
angular range 2θ
1/4-Circle eulerian cradle (χ = -3° .. 90°, ψ = 0 .. 360°)

XYZ

-Table (X = ± 75 mm, Y = ± 75 mm, Z = 0 .. 13 mm)
detector: Dectris Mythen 1K (1d)
Bruker D8 x-ray reflectometer
thickness, density, roughness (thin films), phase identification
thin films, powders
Technical specifications
x-ray tube: Cu (λ = 1.541 Å)
angular range 2θ = -10° … 160°, d2θ = 0.003°
optics: parallel beam mirror (Göbelmirror)
stages: Reflectometer stage, powder spinner (Transmission)
detector: Scintillator (0d)
Hecus S3 MicroPix – Small angle x-ray scattering
(outsourced to Prof. Müller-Buschbaum, TUM Physik E13)
SAXS

: Pilatus 2D detector 84 × 34 mm²

WAXS

: 1D wide angle detector, 2θ = 18° … 30°
In-situ annealing of solid-, liquid- or powder samples T = -20° C … +300° C.
Differential Scanning Calorimetry
Perkin Elmer

DSC

8500: T = -180°C … +550°C, dT = ± 0.05°C
Setaram Evotherm µDSC Evo3: T = -20°C … +120°C, dT = ± 0.001°C
BioLogic – Bi-Potentiostat
cyclic voltammetry I = 1 nA … 400 mA, dI = ± 760 pA, 5 µV, 20 µs
impedance spectroscopy 10 µHz – 1 MHz
4 A und 100 A current boosters
Leica DM 6000 – Digital Microscope
bright-, darkfield, transmission, reflection, multi focus
polarization-, phase-, differential interference contrast
Preparation instruments:
GERO – Programmable high temperature tube furnace
ceramic tube max. 1500 °C
vacuum < 10-4 mbar, inter gas (N2, Ar)
Binder - vacuum heating cabinet
temperature range: T = 30 °C … 200 °C, dT = 1 K
inner dimensions: 40 cm x 34 cm x 40 cm (lxwxh)
Misc devices
Presi BRILLANT 200 – corundum wheel saw
ATM OPAL 410 – resin sample hot embedding
ATM SAPHIR 520 – polishing machine
Contact:
Dr. Markos Skoulatos (head)
Phone: +49 (0)89 289 – 14668
E-mail: markos.skoulatos@frm2.tum.de
Dr. Alexander Book
Phone: +49 (0)89 289 – 12156
E-mail: alexander.book@frm2.tum.de
Teodora Kennel
Phone: +49 (0)89 289 – 10757
E-mail: teodora.kennel@frm2.tum.de
Matthias Wauro
Phone +49 (0)89 289 – 14917
E-mail: matthias.wauro@frm2.tum.de
XRD-Lab (UYM 03.28)
Phone +49 (0)89 289 – 10733
Sample preparation lab 1 UYM (UYM 03.29)
Phone +49 (0)89 289 – 10734
Sample preparation lab 2 UYH (UYH 02.43)
Phone +49 (0)89 289 – 14900
News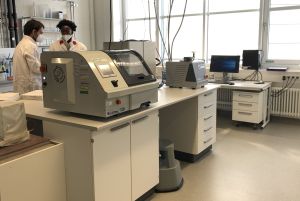 Physics Lab: a user lab for general material characterization
Read more