Lime ice-cream in 5 minutes? Minikinderhaus visiting
As part of their summer program, the children of the Minikinderhaus from Garching visited the Forschungs-Neutronenquelle FRM II. After a short introduction to the research at the Heinz Maier-Leibnitz Zentrum (MLZ), the 25 children and their companions went to the neutron guide hall. There they marveled at the many instruments and learned what a dosimeter is. Final experiments with liquid nitrogen created a highlight.
The children of the Garching Minikinderhaus in front of the FRM II together with Anke Görg from the FRM II. © FRM II / TUM
What is a neutron?
That is not too easy to understand. However, it quickly became apparent that there were some experts among the six- to nine-year-olds already. They answered the question about the smallest particle with the atom completely correctly. The atomic components, such as the electron, were also already known. The neutrons contained in the nucleus of atoms were a new term for all of them.
Young scientists – with a lab coat through the FRM II
Before the group visited the FRM II and the neutron guide hall, they all got a lab coat, just like real scientists. On the gallery of the neutron guide hall, the young visitors learned for which experiments the neutrons are used. For example, they could determine the age of dinosaur eggs and prove that they were laid one after the other – similar to today's birds – and not at the same time, as is the case with reptiles.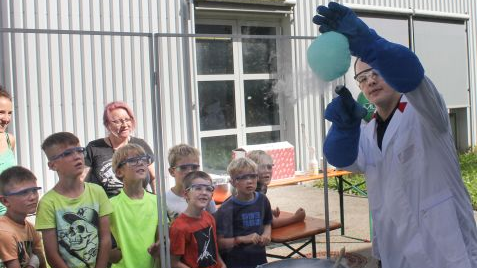 Tobias Neuwirth shows how the volume of the balloon expands again after it had shrunk significantly in liquid nitrogen. © FRM II / TUM
Safety goggles on, it is experiment time!
Scientist Tobias Neuwirth, together with Dominik Bausenwein, engineer and safety officer at FRM II, demonstrated experiments with liquid nitrogen. In the process, they explained why there is so much steam: The water is condensing from the air. This is happening because the nitrogen is so cold. The two also demonstrated: If a balloon filled with air is pressed into liquid nitrogen, it shrinks and almost looks like the air has disappeared. However, the appearance is deceptive: when the balloon is removed from the nitrogen, its volume expands again.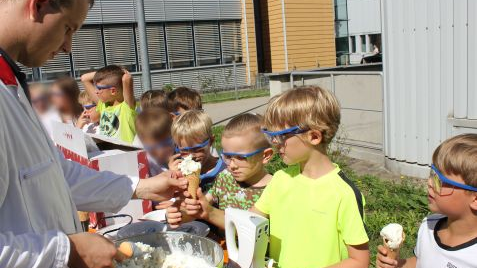 Tobias Neuwirth handing out the homemade lime ice cream. © FRM II / TUM
The final experiment began with mixing yogurt, milk, grated lime peel, limejuice and sugar. The children had already discovered the ice cream cones waiting for them and guessed correctly: Now we will have ice cream! As a well-coordinated team, Tobias Neuwirth and Dominik Bausenwein stirred the liquid nitrogen into the ingredients. This makes the ice cream particularly airy. The children were thrilled and praised the two: The ice cream tasted better than in the ice cream parlor.