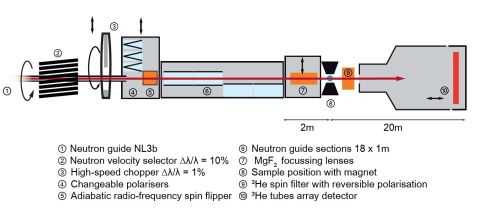 The KWS-1 is dedicated to high resolution mea­surements [1] due to its 10% wavelength selector. This property is interesting for highly ordered or highly monodisperse samples. With the foreseen chopper the wavelength uncertainty can be reduced further to ca. 1%. The scientific background of KWS-1 is placed in magnetic thin films. Magnetic samples will be studied with the full polarisation analysis including incident beam polarisation and polarisation analysis of the scattered neutrons. In front of the collimation, a 3-cavity polariser with V-shaped mirrors is placed. The full bandwidth of 4.5 to 20 Å will be covered with min. 90% (95% typical) polarisation. A radio frequency spin flipper allows for changing the polarisation. The polarisation analysis will be realised with 3He-cells which will be optimised for the used wavelength and scattering angle. Vertical magnets will be provided to render the magnetic field at the sample position. Thin films can be well studied in the grazing incidence geometry – the method is called grazing incidence small angle neutron scattering (GISANS). A newly installed hexapod will allow for positioning the sample with 0.01 mm and 0.01° precision.
Classical soft-matter systems will be investigated on KWS-1 if the resolution is needed. Biological samples can be handled due to the detector distance of ca. 1 m, which will allow for maximal scattering angles of Q = 0.5 Å-1.
The MgF2 lenses are used for the high flux mode with large sample areas, while the resolution stays in the classical SANS range. These enhanced intensities allow for real time measurements in the 1/10 second region (typical 1 s).
The chopper in parallel allows for studying faster dynamics in the ms range. The so-called TISANE mode interlocks the chopper frequency with the excitation field frequency and with the detection binning. The precise consideration of the flight times allows for higher precision compared to classical stroboscopic illuminations
[1] Feoktystov, A. et al., J. Appl. Cryst. 48 (2015), 61-70