Newsletter
The MLZ Newsletter is sent directly to your inbox four times a year. All our users are invited to subscribe to it via GhOST!
You aren't a scientific user but interested? Then just send an email to the MLZ User Office!
Newsletter IV/2020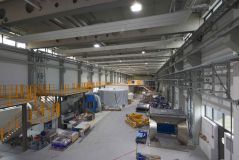 After 24 printed issues, the MLZ News are going digital!
Read about
the Neutron Guide Hall East
a new detector box at

ANTARES

the results of the election of the II.

MLZ

User Committee
Archive
Please find older newsletters in our archive!