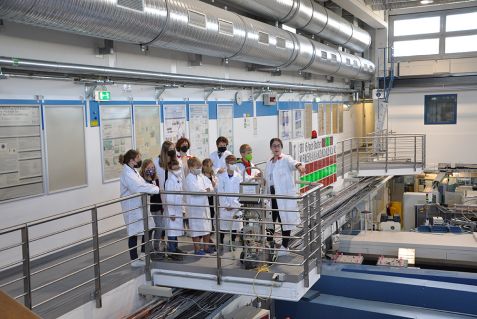 Children´s tour
Children of the mouse group look into the neutron guide hall west. © Reiner Müller / FRM II, TUM
70 children and 139 adults enjoyed a guided tour of the research neutron source FRM II today. On the Open House and Door-Opening-Day of the "Sendung mit der Maus" program, they took a look inside the reactor hall and learned more about science with neutrons.
The tours for the Door-Opening-Day with the mouse were already fully booked in August. Some of the young visitors between the ages of 7 and 13 had traveled as far as Ulm to get a glimpse behind the scenes at FRM II. At the end, there was the promised sweet surprise in the form of lemon, banana and chocolate ice cream. Of course, made with the help of liquid nitrogen.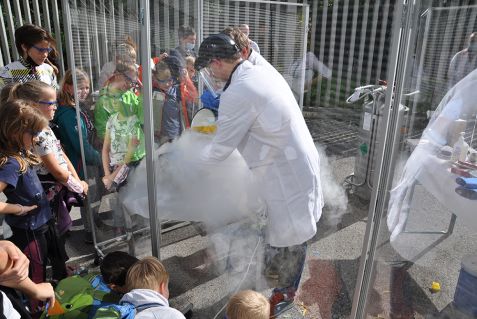 Cold surprise
The cold surprise of the children's program: fresh ice cream made by FRM II scientists using liquid nitrogen. © Reiner Müller / FRM II, TUM
The places for the adult tours were again fully booked weeks in advance. The participants were all the happier to have snatched a place that was now even more limited because of the Corona distance regulations. Some had taken on a journey of several hours.
The Science Congress Center at GALILEO offered a colorful supporting program to accompany the guided tours. Visitors could ask the radiation protection team to show them how natural radioactivity is measured and actually see the particles in a cloud chamber. Lectures such as on the medical use of neutrons, the refitting of the reactor or research on hydrogen offered up-to-date insight into operation and science at the neutron source. Those who wanted to learn something about the history of the atomic egg and the first German research reactor found numerous exhibits from more than 40 years of neutron research and reactor operation.
Mouse Door-Opening-Day
The Mouse opened the doors to children on October 3, 2021. © Reiner Müller / FRM II, TUM
At the information booth of the Heinz Maier-Leibnitz Zentrum, visitors marveled at two Lego models of real scientific instruments: the neutron radiography facility ANTARES and the three-axis spectrometer TRISP. The visitors also learned about the antiparticles of electrons, the positrons.
Corona regulations required 3G (vaccinated, recovered or tested) for admission to the Science Congress Center and 2G (vaccinated or recovered) for adult tours. Proof of testing from schools or a current test result was required for children's tours for Door-Opening-Day.
More information:
The Mouse Door-Opening-Day and the Open House were also accompanied on the social media channels of FRM II and MLZ under the hashtag #NeutronenMitDerMaus
Related News
More impressions from the open day and Maustag