Hands-on science: Girls' Day at the research neutron source
On April 28, more than 90,000 girls did not go to school. Instead, they went to Girls' Day! FRM
II also participated in this nationwide event, welcoming 18 interested girls at its gate once again. Everyone who is at the neutron source for the first time has many questions: What do you need neutrons for? Where do they come from? And what does radiation do?
Atoms, neutrons, radiation – all three can neither be seen, smelled nor tasted. And yet they are more tangible here at the research neutron source than anywhere else. The girls get a first impression of them by making their own atoms out of colored beads, which doubled as little souvenirs in the form of bracelets.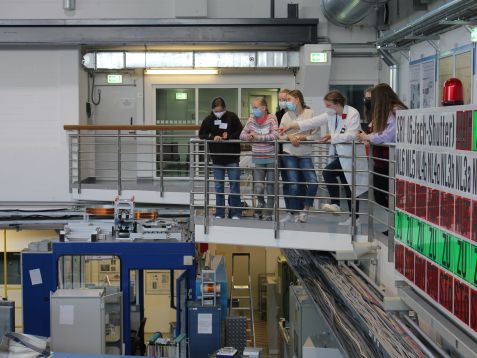 Neurton guiding hall
There are many exciting measuring instruments to marvel at in the neutron guide hall. © FRM II / TUM
From the neutron to the neutron source
After interacting with the "atoms and neutrons", the girls move up a few orders of magnitude and take a tour of the reactor building. Here they do not only see a model of the fuel element and the many scientific measuring instruments but, together with scientists and students, they also take a look into the heart of the facility: the reactor pool.
This is where the neutrons that are so important for science are produced. With their help, researchers can develop medicine or vaccines, precisely illuminate the insides of technical components, or even conduct research into the fundamentals of physics.
Bananas in the lab?
Re-energized after lunch, the girls put their knowledge from the morning to the test in the lab. There, a table with everyday objects awaits them: Banana chips, a camera lens, a green vase and much more. They hold a radiation meter over the objects and are quite amazed: "There's radiation everywhere!"
Exactly, in everyday life we are constantly exposed to radiation, whether we eat a banana or lay in the sun for an hour. This small dose, however, is harmless. Only with more than 100,000 times the dose you might be exposed to on a regular day will the radiation start to have an effect on the body.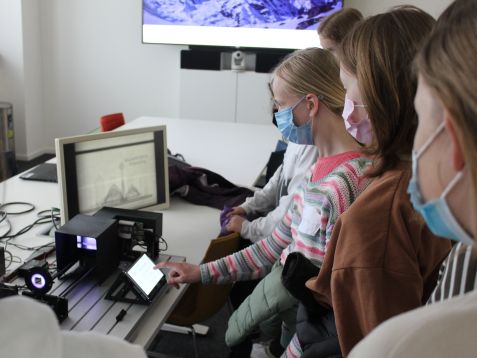 ANTARES-Modell
At ANTARES model, the girls can perform measurements all on their own. © FRM II / TUM
Measurement on the model
From the lab, they go to the ANTARES model – a miniature version of the large measuring instrument that uses neutrons to shine through objects. Here the girls can feel like real scientists. They start the measuring process, rotate the measuring object and try out different filters. Instead of neutrons, the girls measure with light, but the principle remains the same.
Exhausted but happy, the girls leave the site through the revolving door in the afternoon. "I would love to start working here as a scientist," says one of the girls, waving goodbye.
More Information
Girls'Day – Mädchenzukunftstag is the largest career orientation project for schoolgirls worldwide. It is sponsored by the German Federal Ministry for Family Affairs, Senior Citizens, Women and Youth and the German Federal Ministry of Education and Research.
Homepage: https://www.girls-day.de/
Related News