A day as a Scientist – Girls'Day at the Research Neutron Source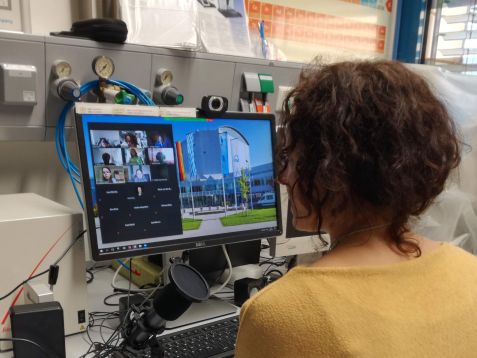 GirlsDay Görg
Anke Görg explains the path of a neutron from the neutron source to the measuring instrument. © FRM II / TUM
Atoms, neutrons, radiation – All three can neither be seen, nor smelled, nor tasted. And yet the scientists at the Heinz Maier-Leibnitz Zentrum (MLZ) at the Research Neutron Source (FRM II) in Garching near Munich work with them every day. On April 22nd the virtual Girls'Day enabled 15 girls from all over Germany to experience what the everyday life of a scientist is like and what atoms, neutrons, and radiation actually are.
Starting in the morning, all of them have their pre-delivered packages ready with lots of little presents from us, MLZ balloons, materials for hands-on experiments and games, as well as lab goggles – If a visit to the lab is not possible, everyone should at least be able to feel like a scientist. But the virtual event also has its upside: The digital format allows girls from all over Germany to participate, not just from the Munich region. After a short round of introductions and some talks organized by the Kompetenzzentrum Technik-Diversity-Chancengleichheit e.V. the day begins with a look into the heart of the research facility: The neutron source.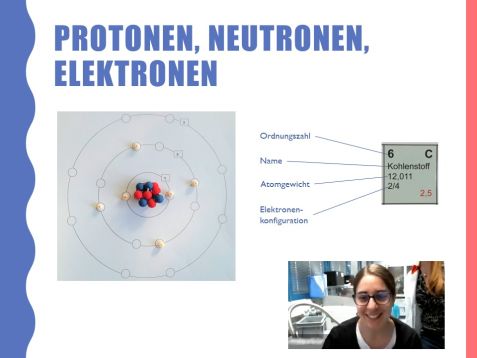 GirlsDay Mamaladze
In a model with beads, Elene Mamaladze explains how the girls can assemble their own atoms. After they assembled atoms, the girls make bracelets out of the beads. © FRM II / TUM
The physics of atoms
From the huge reactor building, we make a jump to the tiny particles, the neutrons. Why are neutrons so important for research? What is radiation? And what does all this have to do with dinosaur eggs?
Neutrons are special because they can non-destructively probe very deep into matter, they are good at distinguishing elements, and they have a magnetic spin. For example, neutrons can shine through dinosaur eggs that are more than 50 million years old in a way that X-rays cannot. The neutrons are generated with the help of a fuel element in the research reactor. But radioactivity does not only exist in the research reactor, but also everywhere in nature! From a banana to the X-ray at the dentist to cosmic radiation.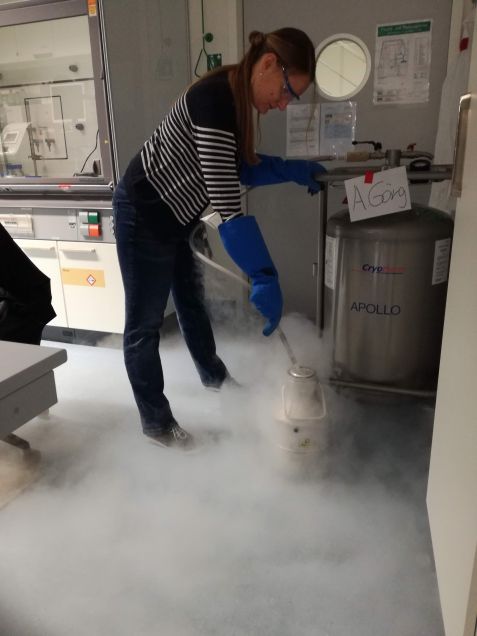 GirlsDay Jochum
In clouds of fog, Dr. Johanna Jochum prepares the experiments with nitrogen. © FRM II / TUM
The magnetic car at -200°C
The highlights are the experiments with liquid nitrogen in the lab. "At -200°C, liquid nitrogen is not just good for fun things like freezing gummy bears in seconds and making them shatter into a thousand pieces, it's also very important for basic research," says Dr. Johanna Jochum, an instrument scientist at RESEDA. She cools a small toy car with a built-in superconductor material whose properties change suddenly at extremely low temperatures) using liquid nitrogen. It gets so cold that it becomes magnetic and sticks upside down to a track.
During the science experiments, the girls ask many clever questions: "Can liquid nitrogen be cooled down so much that it becomes solid?", "What do scientists' study with neutrons?" or "How does one actually become a scientist?".
The day ends with an exciting Escape Game, in which the girls solve puzzles from various STEM subjects. And although everyone was scattered all over Germany, we had a lot of fun together and were able to discover many new things.
More information:
A review of Girls' Day 2021
A look inside the research reactor
More about superconductors: A lecture Dr. Johanna Jochum from the lecture series "Wissenschaft für Jedermann" of the Deutsche Museum
Related News