Master of contactless temperature measurements
Thinking about the University Contact Fair (Hochschulkontaktmesse, HOKO) makes Osama Deeb feel like he's been transported back by two years. He was roaming the fair looking for a working student position to complement his master's degree. Now two years later, the Advanced Materials Group's testing apparatus has a new temperature sensor and Osama Deeb a master's degree in his pocket.
Among the many booths in the building at Munich University of Applied Sciences, the FRM II booth must have particularly caught the eye of Osama Deeb, an engineering student from Jordan. After a detailed conversation with engineer Milan Antic, he was contacted two weeks later by Dr. Ralph Gilles, head of the Advanced Materials Group at MLZ: the CV he had submitted was convincing and he could start in January by initially optimizing a testing apparatus with which metal alloys are tested under extreme conditions.
"Working with Osama Deeb was a real success story"
"Before HOKO, I had no idea what the Research Neutron Source was," says Osama Deeb today with a satisfied smile. Rightly so, because the encounter at HOKO not only got him the working student position, but also his master's thesis. "Working with Osama Deeb was a real success story," says Ralph Gilles. "After his initial experience with the testing apparatus, he approached us with his own project idea, which he fully implemented from the idea to the final product," he continues proudly. The project is a contactless temperature measurement system for the Group's testing apparatus. In it, metal alloys are tested for their stability and must therefore be exposed to extreme conditions. The sample reaches temperatures of up to 1200°C. It goes without saying that a normal thermometer cannot simply be held on to it. Instead, Osama Deeb had the idea of determining the temperature from the color of the sample's glow.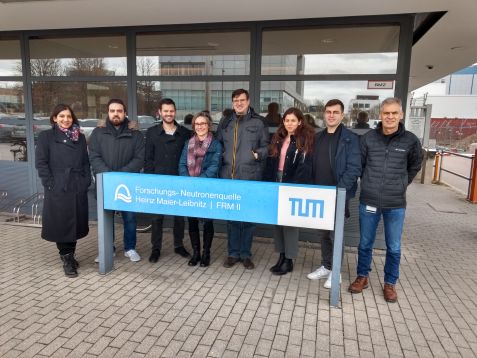 Advanced Materials Group
Group picture of the Advanced Materials Group with Osama Deeb (2.f.l.), Ralph Gilles (r.) und Frank Kümmel (3.f.l.). © FRM II/ TUM
Interdisciplinarity enriches research
"I was looking for a project for my master's thesis, and Ralph and his colleague Frank Kümmel were very encouraging. In general, the atmosphere in the group was very inspiring and I always received valuable help," says Osama Deeb. Frank Kümmel also praises his student: "His great strength was the interdisciplinary approach he took." That's because Osama Deeb's background is in micro- and nanotechnology, which he started at Munich University of Applied Sciences in 2019 as a master's student. He had done his bachelor's degree at the German-Jordanian University in Amman in mechatronics and mechanical engineering. Part of the degree is a year abroad in Germany of which one semester is for lectures and a second for an internship. "I wanted to come to Germany for a long time, because for me it is the country of engineers and I really wanted to learn how engineering companies work here," he says. With this intercultural understanding of his subject, he applied for the master's degree in Munich and ultimately enriched his working group at FRM II.
Double culture shock: Germany and working in science
"This was my first time in Germany, and I have to admit that despite preparation, I experienced culture shock," he says with a laugh. "For example, social life here is a lot more closed off than in Jordan. And on the other hand, I was very impressed by the huge folk festivals. I've never experienced anything like that before," he continues.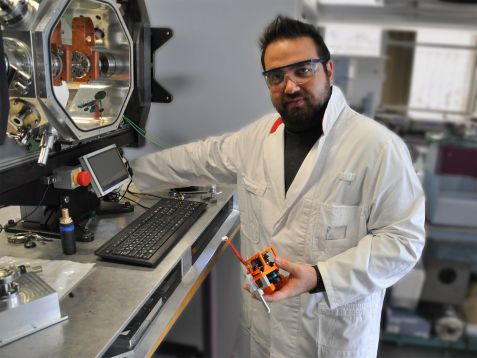 Osama Deeb
Osama Deeb holding proudly his creation in his hand. In the background the testing apparatus of the Advanced Materials Group. © Reiner Müller / FRM II, TUM
He experienced a kind of second culture shock at FRM II. So far, he had gained experience in industry through internships at Leifheit and Webasto. As a scientific institution, FRM II stands in a special position. Did he notice any differences in the way of working compared to industry? "Definitely! In industry, everything is much more rushed with deadlines and you work in a very restricted way. At FRM II, I didn't feel that way, especially when it comes to trying out new things. I really liked that."
With his master's degree in his pocket, Osama Deeb is very confident about the future. He wants to stay in Germany; for him, this is the way to fulfill his destiny as an engineer. "The technical student position at the Research Neutron Source got me many job interviews in the first place," he explains. "I was working with cutting-edge technology, and that's in high demand."
HOKO will be held again between Nov. 2 and 4 – for the second time in digital format. FRM II will also be represented there again with nearly 30 working student positions, internships, and student research projects. Perhaps Osama Deeb will also click through the fair again and meet his next employer.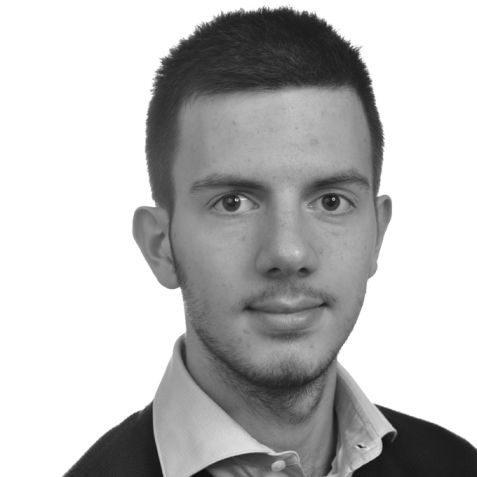 © HEIDI-FOTO
Georgios Mantzaridis
Presse- und Öffentlichkeits-
arbeit FRM II