At his public lecture as part of the "Wissenschaft für Jedermann" series at the Deutsches Museum, Dr. Sebastian Busch gave more than 100 listeners an insight into his research on water in important processes in the human body. The lecture is available online on the Deutsches Museum's YouTube Channel.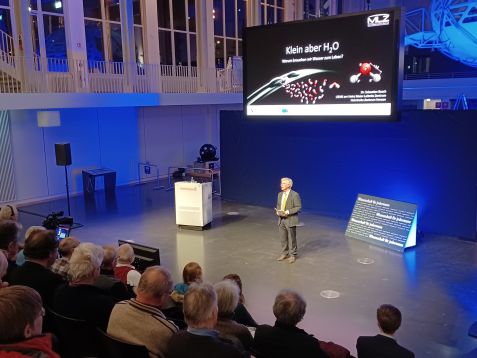 Prof. Dr. Winfried Petry introduced the lecture to an audience of about 100 in the auditorium of the Deutsches Museum. © FRM II / TUM
At the beginning of the lecture "Small but H2O – Why do we need water for life?", the long-standing scientific director of FRM II and MLZ, Prof. Dr. Winfried Petry, briefly introduced the speaker and the topic. Sebastian Busch showed the audience in the auditorium of the Deutsches Museum quite vividly that water is a very special molecule "that holds the cells together inside". Using a film, molecules he had put together himself and many examples from his research with neutrons, the cooperative head of the Helmholtz-Zentrums Hereon branch office at the Heinz Maier-Leibnitz Zentrum explained the role of water. Examples included the extremely water-soluble amino acid proline, the introduction of mRNA into the human cell and his research on cocaine that crosses the blood-brain barrier. The researchers' goal in each case was and is to learn from the molecules in order to use them to develop new and better drugs.
The audience was enthusiastic about Sebastian Busch's presentation and asked many questions. For example, whether cocaine molecules fold up directionally to cross the blood-brain barrier. However, only a few do so by chance; many others get stuck, as Sebastian Busch explained.