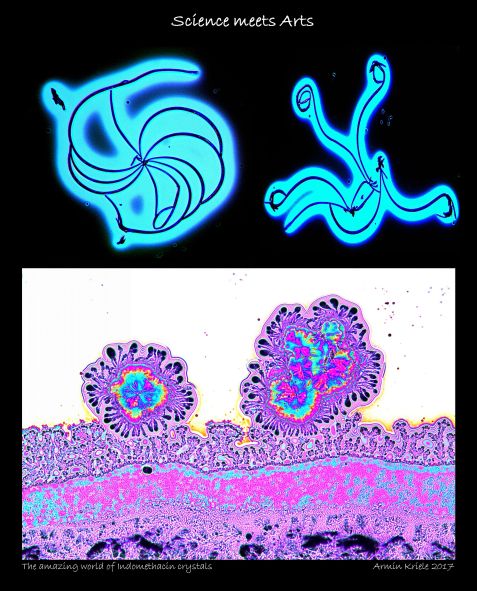 Cerfa Contest
With this contribution Armin Kriele came to the final round of the photo contest. It shows the crystallized indomethacin. © A. Kriele / FRM II
Scientific pictures often show fantastic motifs – for scientists sometimes not so easy to recognize. For laymen, who do not know the background or genesis, and therefore look at them with a very different look, they reveal a very special beauty that can compete with classical art. Armin Kriele, a member of the Material Science Laboratory of the MLZ, has this other look and also looks with the eyes of an esthete on the scientific pictures that he daily sees.
Thus, the micrograph image of a thin film of indomethacin, a pain reliever from the group of non-steroidal anti-inflammatory drugs, has also caught his eye. This material is interesting because it crystallizes, but in a disordered, quasi "glassy state". Such materials resemble permanent liquids that flow so slowly that they appear as solids. Their molecules can rotate and translate almost randomly around the equilibrium position. What happens when the system is cooled and the movements of the molecules are actually frozen?
This question became an additional answer by an unintentional "accident". A user from Spain brought the samples with the airplane to Garching and therefore exposed them to extreme conditions (pressure, temperature, humidity). This led to an astonishing, until today unknown result: they crystallized in abnormal, so to speak not "allowed", way. As the images show, disordered systems can in the short range also crystallize in a high-order system. The photos were taken with a Leica DM 6000 optical microscope in polarization mode and are not further edited.
Armin Kriele has submitted this picture to a competition for scientific photos (Cerfa Photon 2017) and has thus landed in the final round. The photos of the finalists are presented from Wednesday, March 29th to Tuesday, April 11th at Salon Irkutsk in Isabellastr. 4. Until April 6, the audience can vote for their favorites.
An exhibition of additional fantastic images is shown in the Materials Science Lab Art Gallery, Containerbuilding UYD.