TUM-Entdeckerinnen in the neutron guide hall
A total of 12 "TUM-Entdeckerinnen" took a look behind the scenes at the research neutron source. © FRM II / TUM
Their mission was to discover the neutron source, and the twelve motivated schoolgirls pursued this goal with a plan on August 2. As part of the "TUM Entdeckerinnen" program, the 13-15 year olds came to visit during summer vacation, looked behind the scenes at the research neutron source and asked plenty of questions.
Fascinating view into the reactor pool
The highlight for most of the girls was the view into the reactor pool through the visitor's window, especially since employees were currently inspecting parts of the reactor pool using an underwater camera. "What happens if someone falls in there?" The fact that enough life rings are around the pool, that no one has fallen in yet, and that bathing in the super-clean water isn't inherently dangerous (but still definitely prohibited) was a satisfying answer for the girls. "What do I have to study to be able to work down there?" directly followed. A little surprising, perhaps, that not only engineering or physics studies, but also many apprenticeships such as machine operator lead to a workplace by the reactor pool.
Inquisitive young women
The interested young women asked countless questions about science, research and studies. © FRM II / TUM
Inquisitive discoverers
In the gallery of the neutron guide hall, the discoverers learned from visitor guide Leon Chryssos about the experiments for which neutrons are used and that researchers can use the beam time free of charge. "And how do you earn money then?" It was obvious that silicon doping and measurement time for industrial customers or radioisotopes for cancer treatments cannot completely finance research.
Countless questions about studying and university life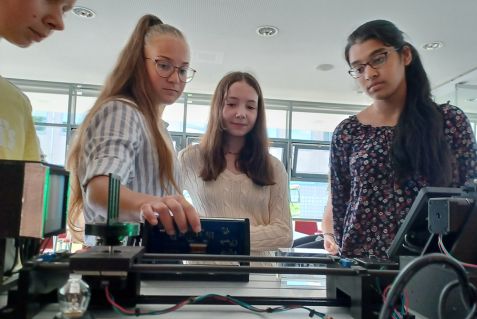 Experiments at the ANTARES-model
The girls experimented with light beams on a model of a neutron radiography facility. © FRM II / TUM
The two doctoral students Tobias Neuwirth and Simon Sebold demonstrated exactly how such an experiment works on their model of a neutron radiography facility. Here, the girls experimented with harmless light beams and thus learned about the principle of a pinhole camera. Here too, there was a hail of very practical questions. "How long does a doctoral thesis in physics take?" – The girls audibly sucked in air when they heard the answer "five years". The inquiry continued, ranging from the point of view of an eighth grader, for whom studying physics wouldn't lie too far on the horizon: "How long does it take to study physics at the Technical University of Munich?" to practical tips on whether a math or physics advanced course prepares you well for your studies ("Not necessarily"), and the really important question: "How comfortable are the seats in the lecture hall?" The honest answer to the latter question is not given for reasons of discretion.
In the end, the twelve female explorers had accomplished their mission, even if they could have continued asking questions forever.