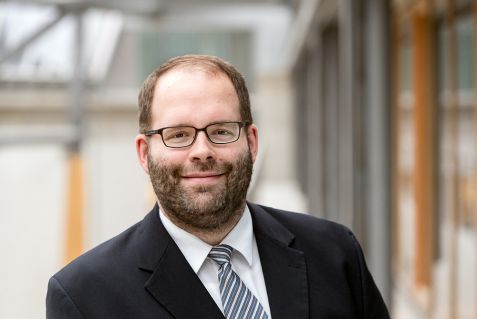 Robert Rieck
Since March 1, Robert Rieck is the new administrative director of the research neutron source Heinz Maier-Leibnitz (FRM II). © Astrid Eckert
Since March 1, Robert Rieck runs the administration of the research neutron source Heinz Maier-Leibnitz (FRM II). The 42-years-old fully trained lawyer brings with him experience as a lawyer, from working in the TUM Legal Office and the Center for Study and Teaching (formerly the University Department for Study and Teaching – Legal Affairs) as well as from working in the administrative management of the Bavarian School of Public Policy (HfP).
During the past four and a half years, Robert Rieck supported the water law permit of the FRM II on the part of the Technical University of Munich and thereby discovered his "fascination for the neutron research source", as he tells. Robert Rieck first studied law at the Ludwig-Maximilians Universität München (LMU). After his legal clerkship he worked as an independent lawyer. "I always had a passion for public law", the Munich-born says. In his search for a position in the administration, he began in 2012 as a research assistant at the Bavarian School of Public Policy (HfP). Rieck accompanied the reform and finally the takeover of the School by TUM, last as permanent representative of the administrative director of the HfP. In his private life, Robert Rieck is also concerned with precision and technique: he enjoys photography and is a passionate sports marksman in a Munich shooting club.
Rieck succeeds Johannes Nußbickel, who, after three and a half years as FRM II administrative director, took over as head of the finance department of the LMU in December 2019. "I come here to an outstanding facility, which is in great condition", Rieck states highlighting the difference to the HfP, whose administrative management he took over in 2013 at the height of the reform discussion. He sees his mission in "maintaining and improving what works, in order to support research at the neutron source in the best possible way". Robert Rieck now takes responsibility on the Board of Directors of the research neutron source and is in charge of finances, legal matters, contracts and human resources.
After getting to know each other, Rieck got straight down to business: In order to prevent the spread of the coronavirus, most of the scientists at the FRM II and many employees from administration and operations now work in their home office. Only a minimum staffing works on site in Garching, others come on request or are available as replacements in case of illness. There is also a lot to do from the administrative side.