This year, the MLZ's biannual internal workshop again took place in the picturesque surroundings of Grainau near Garmisch-Partenkirchen. More than 140 participants from all member institutes of MLZ (Helmholtzcenters Jülich, Geestacht and TUM) met from June 24, to 27, 2019 for discussing about the future perspectives, instrumentation and strategies of MLZ within the next decade.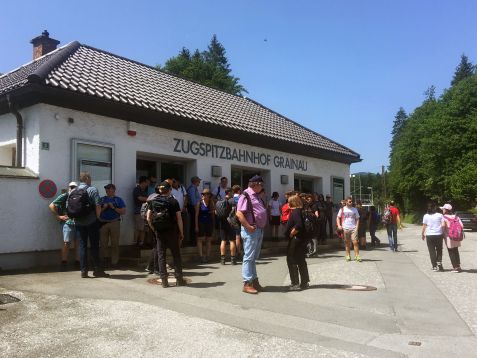 Excursion to Osterfeldkopf
Even on the hike to Osterfeldkopf, our colleagues did not run out of breath for lively discussions. © FRM II/ TUM
The program consisted in discussions – plenary and parallel in the science groups of MLZ – as well as in plenary scientific talks about deep machine learning, magnetic fluctuations, grazing incident small angle neutron scattering, Larmor diffraction, the dark side of the neutron decay and ionic fluids. Within the science groups, 40 talks and 80 posters reported about the diverse spectrum of in-house research at MLZ.
A conference dinner near the Badersee and an excursion to the Osterfeldkopf and Kreuzeck offered ample time for socializing with colleagues. A very exiting keynote by Prof. D. Dingwell from the Ludwig-Maximilian Universität München gave deep inside in the interior of volcanoes and the properties of lava.