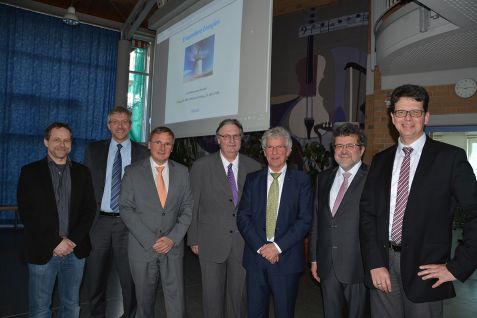 43rd Edgar-Lüscher Seminar
Opening the 43rd Edgar-Lüscher Seminar in Zwiesel (from left): Teacher and organizer Claus Starke, Zwiesel's mayor Franz Steininger, Ministerialbeauftragter Anselm Räde, school director Heribert Strunz, Prof. Dr. Winfried Petry, deputy school director Klaus Habermeier, Prof. Dr. Peter Müller-Buschbaum. © Christina Hackl/ PNP
The university comes to the school. Under this motto, approximately 70 teachers from all over Bavaria listened to and discussed the talks of the university lecturers on the topic "Renewable Energies" at the 43th Edgar-Lüscher-Seminar.
After an introductory lecture for students, on Friday, March 22, there were lectures on energy modeling and organic photovoltaic systems. On the second day, the teachers learned something about the basics of chemical energy storage and how neutrons help to explore energy storage systems. "Smart grids" and "Biomass and the energy transition" were on the program in the afternoon. Coffee breaks offered room for discussions with the lecturers. On Sunday, the lectures dealt with deep geothermal energy and wind energy.
The seminar, organized by the Technical University of Munich (TUM) and Gymnasium Zwiesel for 43 years in the Bavarian Forest, gives teachers an insight into a current field of research during a weekend. On the part of the TUM, Prof. Dr. Winfried Petry and Prof. Dr. Peter Müller-Buschbaum are responsible for the scientific organization, in Zwiesel, the teachers Heribert Strunz, Claus Starke, Christian Stoiber and Thomas Kufner are in charge.
The dates and topic for the next Edgar Lüscher seminar have already been decided: from 24 to 26 April 2020, university lecturers will speak on the subject of "Archeology and Art History with Physical Methods".