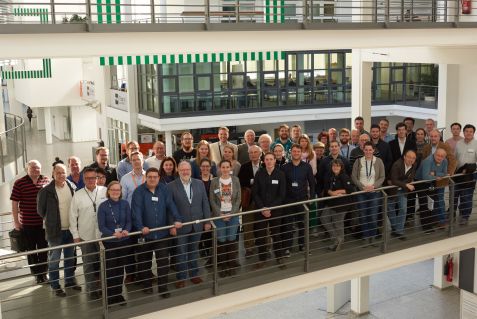 SAGAAS_participants
During the seminar 70 participants discussed current topics and novel applications. © W. Schürmann / TUM
Around 70 scientists recently met in Garching on the topics of activation analysis and gamma spectrometry at the seminar SAAGAS (Seminar on Activation Analysis and Gamma Spectrometry). After 2013, the Heinz Maier-Leibnitz Zentrum hosted the seminar once again.
On three days, the experts from ten different countries exchanged views in 48 lectures and poster contributions at the premises of the mechanical engineering department at the Technical University of Munich (TUM). Topics included new applications, such as the analysis of particulate matter and enhanced techniques, such as neutron depth profiling, as applied at the MLZ for the analysis of lithium-ion batteries. The industrial exhibition with numerous booths of detector manufacturers showed the relevance of the topic and broad range of applications. Guided tours of the research neutron source FRM II and the Maier-Leibnitz Accelerator, a special presentation in the Garching Planetarium Supernova and a joint dinner in Munich completed the program. Another highlight of the workshop was the evening lecture by Prof. Dr. Henning von Philipsborn (University of Regensburg) on "radioactivity to touch".
SAGAAS_winners
The winners (from left) Markus Trunk, Thomas Mittersteiner, Dorian Zok, Lukas Werner and the chairmain of the Working Group ARH of GDCh, Prof. Dr. Ulrich W. Scherer, Hochschule Mannheim. © W. Schürmann / TUM
The Gesellschaft Deutscher Chemiker (GDCh) honored four young speakers from SAAGAS: Markus Trunk (TUM) took first place for his lecture on Neutron Depth Profiling at the MLZ instrument PGAA. The second place was shared by Dorian Zok (Leibniz Universität Hannover), Lukas Werner (TUM), and Thomas Mittersteiner (TU Wien).
The working group Analysis with Radionuclides and High-Power Radiation Sources of the Nuclear Chemistry Section of the Gesellschaft Deutscher Chemiker organizes the SAAGAS seminars every two years. Dr. Christian Stieghorst (TUM) had been responsible for the local organization of the seminar as a member of this working group and in the name of the MLZ.