A 3D model and many contacts: The career fair IKOM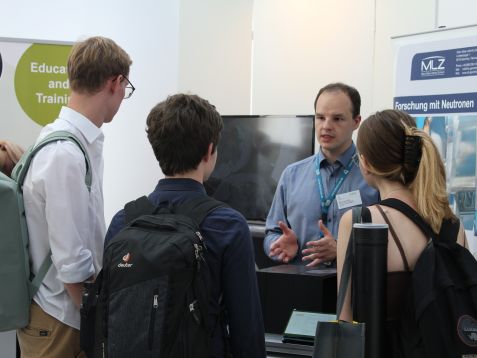 IKOM: Tobi explains
Tobias Neuwirth explains to interested visitors how the ANTARES instrument works. © FRM II / TUM
On June 27, FRM II presented itself at the student career fair IKOM. The four-day event at the Technical University of Munich is the largest student career fair in Germany and connects students and employers. Numerous internships, job offers and student thesis projects attracted more than 200 interested fair visitors to the FRM II booth.
For the first time, the Research Neutron Source Heinz Maier-Leibnitz participated in IKOM, the large career forum of the Technical University of Munich at the Garching campus. After past job fairs could only take place in digital form, students at this year's IKOM were finally able to enjoy face-to-face conversations again.
Finally in person again
The great interest in direct exchange was also reflected in the number of interested visitors at the FRM II booth. More than 200 students were interested in the various career opportunities at the research neutron source.
ANTARES model as eye-catcher
Especially the 3D-printed model of the radio and tomography facility ANTARES attracted attention. With its interactive setup, the fair guests could try out their skills as neutron researchers. Tobias Neuwirth, PhD student at the ANTARES instrument, answered all the students' questions about the daily work of a scientist.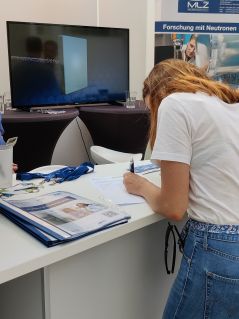 IKOM: Mailing List
An interested visitor signs up for our mailing list for further information. © FRM II / TUM
Contact persons from science, operation and administration
Colleagues from the operation of the research neutron source were also represented at the booth with great commitment and advised prospective engineers and technicians on starting a career at FRM II. Finally, the students received answers to all practical questions about the application and hiring process directly from the representatives of the personnel office at the neutron source.
Numerous offers for students
The total of 32 openings for students included exciting and various internships, student jobs as well as final thesis projects. Graduates could learn about three currently open permanent positions.
Thanks to the great commitment of the helpers from operations, science and administration, many new contacts were established with interested students at IKOM 2022. Now everyone involved is looking forward to receiving numerous applications.