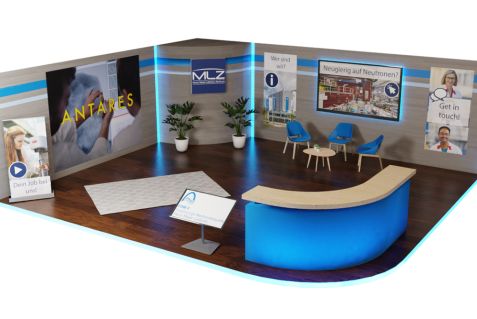 The digital booth
The digital booth of the FRM II and MLZ was equipped with many interactive elements. © FRM II / TUM
On 03 November, MLZ and FRM II presented themselves at the university contact fair HoKo. The event, which is one of the largest German contact fairs between students and companies, took place for the second time in a purely digital format. In addition to numerous other exhibitors, MLZ and FRM II offered 35 positions for students and graduates.
This year, for the 14th time, the research neutron source Heinz Maier-Leibnitz (FRM II) took part in the HoKo university contact fair. The fair is organised by students for students and brought – spread over three days – many visitors together with 156 companies.
Interactive booth
Due to the selected cookie settings, the content cannot be displayed. Please click here to adjust the settings.
To give students an exciting insight into the work at the research neutron source despite the digital format, the booth was equipped with many interactive elements. In addition to test information about the FRM II and MLZ, visitors could, for example, take a virtual tour of the reactor and experimental hall. A film produced on the occasion of the HoKo gave the students an impression of possible fields of work and the great variety of activities offered at the FRM II and MLZ. Science was not neglected either: an explanatory video on neutron imaging was linked to the digital booth, showing interested visitors how the ANTARES instrument works.
Connecting via chat and videocall
In addition to visiting the booth, students had the opportunity to talk to scientists in a face-to-face setting. A total of 18 dedicated contact persons were available for questions at the booth throughout the day, both via chat and video call. In several private conversations and chat sessions, students and researchers were able to get to know each other and explore common interests. With a total of 35 exciting advertisements for working students, internships, theses and jobs, the research neutron source had a lot to offer and was thus among the exhibitors with the most job positions.
The scientists, engineers, and technicians at FRM II are now looking forward to receiving numerous applications.