Flying the nest: offspring in the kestrel family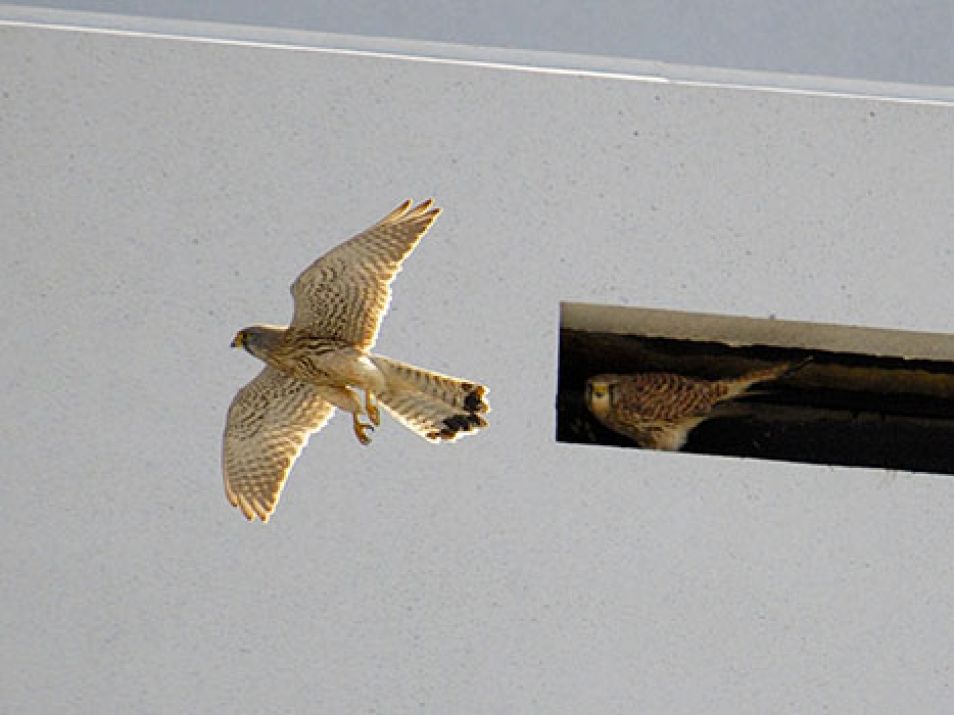 © Christian Müller (FRM II/TUM)
I'm standing on the edge. When I look down, I get dizzy. It is so deep!
"Now go ahead. It's really much easier than it looks," Mum encourages me. "Your brothers and sisters have also made it." She talks gently. My siblings are all bigger and stronger than I am. That's probably what happens when you hatch last. I am number four – our nestling. Four weeks ago I finally managed to crack this damn hard shell. Three naked, hungry chicks were already sitting in the nest. Mum makes sure that the food is distributed fairly but the early chicks catch the worm. As a latecomer, I usually only get the leftovers. No wonder I lack the necessary strength to take off.
Flying… It seemed to be so easy for my siblings. They tumbled out of the nest one after the other and then courageously threw themselves out of our window. After flapping their wings a few times, they now flutter happily with Dad around this huge egg next to our apartment. Now it's my turn: my little legs tremble, my fluff blows in the wind, and my puny wings feel numb. I have never leaned so far out of the window! Mum is getting impatient. Ok, take a deep breath! Grit your beak and go to it! I kicked off and fell into the depth…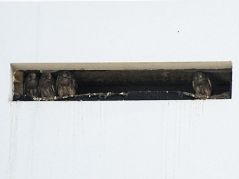 Four chicks before their first flight attempts © Christian Müller (FRM II/TUM)
"Don't forget to flap your wings!" That's right! There was something. I beat my wings frantically. The ground is getting closer and closer! Flap harder! I put all my strength into each of my wing beats. And then the world stands still. Actually, the ground doesn't come any closer. "Very well done", I hear Dad calling. It's true! I am flying! I can't even close my beak because of all the amazement. I flap harder, a bit unevenly, but slowly I gain height again. Higher and higher until I have a wonderful view over the whole area. Next to the huge egg there is a very big building with a red and white striped chimney on the roof. All around is a lot of green – forest and meadow! And behind the building there is a small river with very clear water. I would like to take a bath in it!
I lean to the left, to the right, and finally navigate my flight route to my family, which has made a flight stop on the big egg. Completely out of breath, I arrive at the egg and stumble on my first landing attempt.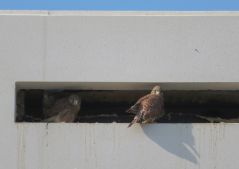 From fluff to feathers: The kestrel chicks are growing up. © Luisa Heyer (FRM II/TUM)
"You've all done very well, children," Mum praises us. "Now that you can all fly, Dad will show you how to hunt delicious mice." Excuse me? I can hardly fly and now I am supposed to hunt? They must be crazy! Well, at least I can take care of my own food then.
Hmmmmm, delicious little mice… for them it's worth learning how to fly and hunt fast. Besides, Mum and Dad will throw us out of their nest in a few weeks. Then, each of us has to build our own nest and search for a new hunting area. Too bad, I like it here near the giant egg! These so-called humans are just building more nesting sites for us. Every day I see them working diligently. This big building will certainly be finished soon! I could just move in next door. However, my parents want to have their peace. Well, until then I will be a real high flyer!

Flight lessons on the FRM II site

In a nosedive

Four chicks
The three older chicks

Number Four

From fluff to feathers

Last flight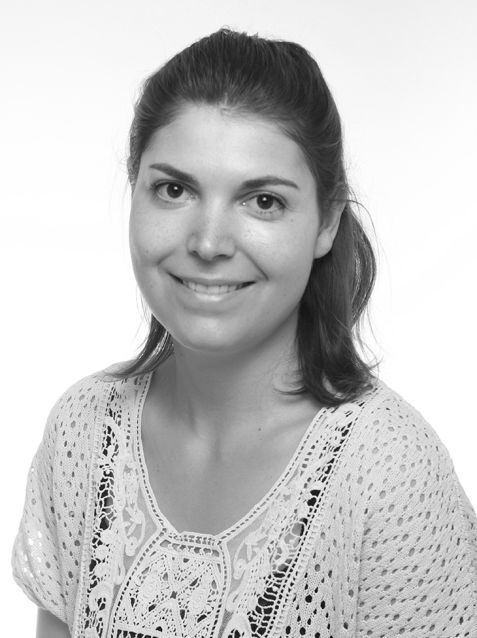 Luisa Heyer
Presse- und Öffentlichkeits-
arbeit FRM II