The reactor at night: Dr. Heiko Gerstenberg says goodbye
When the heavily loaded truck rolls onto the site in the middle of the night, Dr. Heiko Gerstenberg is already waiting. Only he and a few insiders know about this event since the truck is carrying a very special cargo: fresh fuel elements for the FRM II research neutron source.
The life cycle of a fuel element is a particularly important task in Heiko Gerstenberg's professional life. After studying physics in Munich, he began his research in the atomic egg in 1982 as a graduate student. He remained there until its decommissioning and took over as head of the department for irradiation and radiation sources, and became a member of the plant management at FRM II in 2000.
The delivery of the fuel elements was not the only time he had to come to the reactor site in the middle of the night. In this interview he talks about his experiences in almost 39 years at both the FRM and FRM II.
During your employment at FRM (the atomic egg) and at FRM II, which tasks did you particularly enjoy?
As part of my diploma thesis, I worked with the cryogenic irradiation facility, which is unique in the world. It was also exciting for me to set up the irradiation department at FRM II with commercial use, because at that time hardly anyone believed that there would be any commercial customers. Our administrative director at the time wanted to dip some silicon crystals in the reactor pool for doping just to try it out. He was quite surprised when the Munich-based company Siltronic offered us a contract six months later since the industrial quality requirements were met at a high standard. Silicon doping has developed into a real business with several employees and customers from Europe and Asia. The last important task of my professional life was the fuel cycle and the Castor transports, although here the importance outweighed the fun.
You just mentioned the Castor transports. What were or are the biggest challenges there?
Everything. At the beginning, the fuel cycle issue was a relatively problem-free task. All I had to do for FRM II was to ensure compliance with the necessary organizational requirements for the delivery of fresh fuel elements, and the transport was then carried out by an experienced special company. The handling of fresh fuel elements does not require any special radiation shielding by a castor, because they are not yet active.
And the disposal of spent fuel?
When the International Atomic Energy Agency (IAEA) changed its criteria for fuel element transport in 2007, the castor containers had to be adapted for disposal. We developed a completely new transport and storage cask Castor MTR 3 together with the company GNS. Of course, we also cooperated with the research reactors in Mainz and Berlin, which also used this container. At that time, I could absolutely not imagine that it would take 8 years until the container would even get a regulatory approval.
As a child, you probably did not think you would end up at the research reactor one day?
I certainly did not want to become a physicist as a child. My father had a bakery in the village and it was clear to me early on that I did not want to take up his profession. It was something special that I was allowed to attend high school. For my physics studies I came to Munich with my then girlfriend, now wife. After graduation, as a graduate student, I had the childish wish to work on a really big machine. As you can see, I never left.
Have you ever had the situation where you got strange looks among friends or elsewhere for working at a research reactor?
All my friends knew about it and sometimes I got a bit teased about it, but I was never affronted or condemned for my work. On the contrary, I have always been able to interest many people about it. We are quite open about the research reactor and that is why I made some private tours and showed the reactor to interested friends.
What do you enjoy more: thinking about something in theory or putting it into practice?
The real fun, of course, is the combination. That is why I enjoyed working with the radiation so much. There I would think of something, run tests, and improve my idea until it worked. A good example involving the cooperation with companies is the production of holmium for cancer therapy. I always found the feedback very satisfying when the first patients were treated. However, it also happened that we had to irradiate at 5 a.m. in the morning so that the preparation would reach the patient at the right time. In this respect, I am very grateful to my colleagues who always went along with it and did a good job.
Holmium is used in cancer therapy. In liver cancer therapy, holmium is injected and flushed into the liver with the bloodstream. It is important that the holmium atoms have the right size of 30 μm, because only then do they get stuck at the right place in the capillaries of the liver. There they decay, releasing energy damaging the tumour tissue.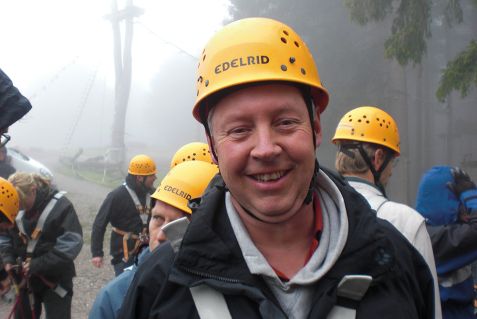 During company outing
On the Blomberg in the climbing forest, the scientists of the neutron source relax during their company outing in 2008. © FRM II / TUM
What are your plans now that you are retired?
I have to get used to it. I have a bunch of hobbies that I want to improve on. Most people know that I like to go on long bike rides. I want to spend more time with my little grandson, who I have seen too little. I also like to dig through old archives to catch up on family history. I definitely will not get bored. And if I do, my wife will find tasks for me.
I have one last question: What souvenir will you take with you?
As a farewell gift, I received a couple of nice presents that are quite important to me. One is a fuel element model, and the workshop built me a nice miniature castor. What is important to me is that I will try to stay in contact with several of my colleagues for the long term. I have also developed friendships with colleagues from other companies while working together, which is not necessarily typical for such business relationships. A good team has always been important to me and therefore I would like to maintain contact beyond the active phase.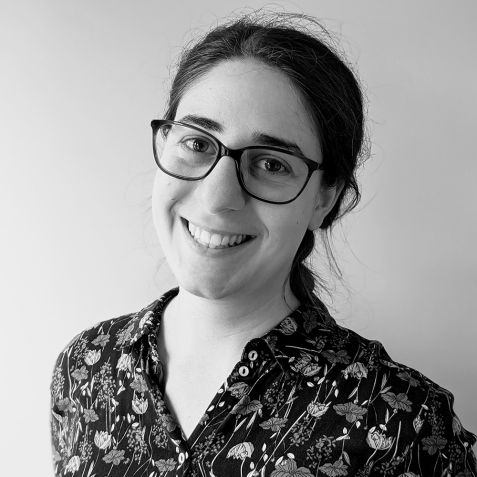 Elene Mamaladze
Press & PR
FRM II