RESEDA and (together with Petr Čermák of Charles University, Prague) organized the "Czech-Bavarian MINI-SCHOOL 2020 on large scale facilities and open data" and Christian (instrument scientist at TOPAS) is one of the organizers of the weekly so-called "Neutrons in Research and Industry" seminar of TUM and FRM II.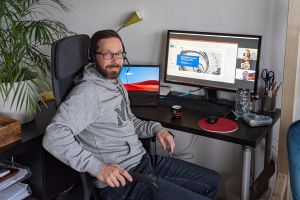 2020-12 C. Franz
Christian Franz at his desk at home, hosting the "Neutrons in Research and Industry" seminar. © private
IL: Nice that you meet me for a chat about your experiences as organisers of now virtual events! The school was planned as a normal school with students here in Garching as well as Prague. The weekly seminar can be called an institution: Each Monday, many MLZ colleagues rush to the Physics Department, meet the invited speaker and listen to the given talk. First of all: How did you switch to virtual?
CF: We use ZOOM for our talks now but we still try to stick to the format of an internal institute seminar, thus we don't record and/ or stream.
JJ: We used the same for the talks of the school and also for the guided tour of the FRM II: I connected my phone, strapped it to my chest, switched on the camera and wandered around in the Neutron Guide Hall West, showing instruments, telling anecdotes, and chatting to some colleagues whom I could motivate to join.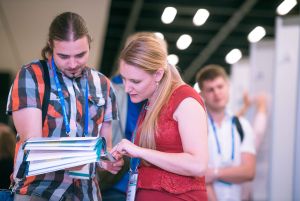 2020-12 Peter Cermak and Johanna Jochum
Johanna Jochum and Petr Čermák already planning the MINI-SCHOOL during the ECNS 2019 at St. Petersburg (without masks and safety distance before the virus hit the world). © ECNS 2019
IL: That's a cool idea! I hope, nobody became seasick due to your motions… But what about the social factor? I always feel a bit inhibited to interact with others in a vicon.
JJ: We just gave it a try and started with a social event: First, riddles have to be solved in break-out rooms to break the ice. That was quite funny, but afterwards we met at wonder.me, where each participant has an avatar and you can move around and chat with the others – it is a kind of a virtual bar. That was a real success!
CF: We learned from last term (our first virtual one), and now try to establish discussion rounds with the speaker. We invite some people to join the room already before the talk. So, they get the opportunity to chat a little bit with the speaker. They will also switch on their cameras during the talk. We all know how annoying it is to speak to all those black tiles, without any visible audience and feedback!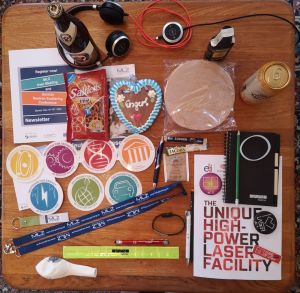 2020-12 Conference Bag MINI SCHOOL
The planned conference bag for the school's participants.... © private
IL: And what was the craziest thing that could only happen because of the online format?
CF: Once we had to deal with a Zoom bomber – but fortunately he left quickly.
JJ: Since we didn't need to spend any more money on hotels and travel, we decided to put together a nice package for the students, including snacks and drinks from Prague and Munich. But the package I sent to Prague (including information about the FRM II, Bavarian Beer, gingerbread hearts, pretzls..) got LOST by the DHL… and has not been found yet :(
IL: Thank you for sharing your experiences!
compiled by I. Lommatzsch (JCNS)