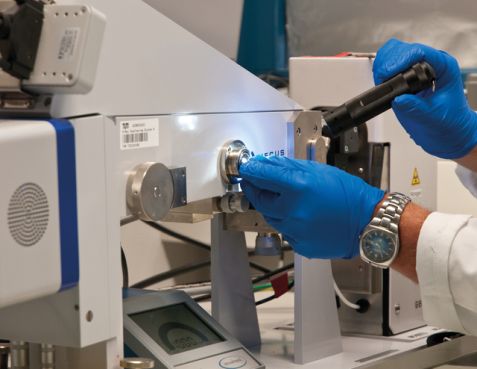 Numerous well-equipped laboratories are on-site to support scientists in preparing and characterizing their samples prior to or after the neutron scattering experiments. These laboratories offer a wide range of equipment to prepare and pre-characterize samples. They offer the basic tool set to handle or store the samples under the appropriate conditions, prepare solutions or even perform chemical reactions. The sample preparation lab is in the Neutron Guide Hall West, very close to the instruments. The links to the specific laboratories outline the available equipment.
Even more specific are the transmission electron microscope (TEM) and the thin film deposition system molecular beam epitaxy (MBE) located in the thin film lab. Transmission electron microscopy is a complementary technique to support soft matter studies. The MBE system is ready for the fabrication of high-quality thin films intended for investigations using the neutron reflectometer MARIA or similar instruments at the MLZ.
The user lab team is ready to support the users with the equipment and the general procedures for using the laboratories. They offer assistance and advice with regard to supplementary techniques as well as health and safety issues.
In general, users are encouraged to enquire about the use and availability of the specific equipment well in advance of arriving at the MLZ.