PGAI-NT
Prompt Gamma Activation Imaging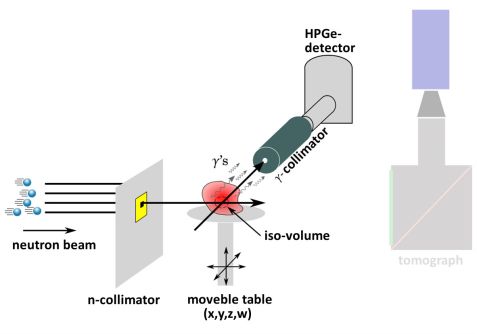 PGAI-Setup
Figure 1: Scheme of the PGAI setup (R.Schulze, FRM II, modified by E. Kluge, IKP, University of Cologne).
Prompt Gamma Activation Imaging (PGAI) is an extension of PGA which allows for the analysis and the visualisation of the elemental composition with spatial resolution. The method is also non-destructive. With PGAI, it is even possible to get information about the inner parts of objects. This is achieved by a strong collimation of the neutron beam and a collimation of the gamma radiation in front of the HPGe detector. The sample is positioned by a motion table, and step by step, all preselected isovolumes of an object can be measured (at the crossing point of the two axes of the neutron beam and the gamma collimation).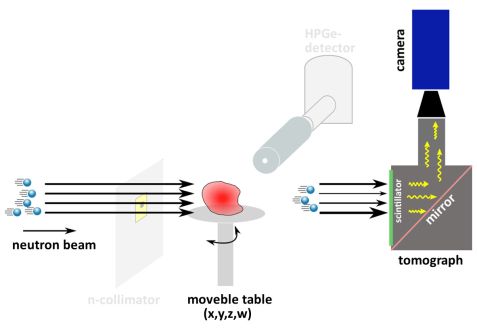 NT-Setup
Figure 2: Scheme of the NT setup (R.Schulze, FRM II, modified by E. Kluge, IKP, University of Cologne).
A schematic diagram of the PGAI setup is shown in figure 1. The minimum size of the isovolumes is in the mm range. Limited resolution is a disadvantage, but can be compensated in certain cases by adding Neutron Tomography (NT). First of all, NT provides images of the outer and inner structures. Furthermore, one can get an indication about the composition of the sample because of the material specific neutron absorption coefficients. The combination of both – the PGAI-NT – makes possible a more precise analysis of the elemental distribution and provide also structural information of objects. The recent version of the PGAI-NT setup was developed by E. Kluge and S. Thiel (IKP, University of Cologne), see figure 1 and figure 2.
Selected applications
Mainly archaeological artefacts, for instance.:
In a Roman coin weigh made of lead pieces of copper could be found – most probable, the pieces were added with intent to defraud (wrong mass).
Investigation of the content of a Christian reliquary.
Amulett capsules, seals etc.
Another possible application is the non-destructive testing of workpieces –e.g. analysis of deposits in the inner parts of small mechanical devices. For an application of PGAA in combination with NT see [1].
Technical data
For PGAI, the collimated beam is used with a further collimator. For NT, the elliptical tapering in combination with a pinhole aperture in the focal point is used for conical beam geometry.
NT:

Aperture (B4C) in the focal point as artificial point source for conical tomography.
Smoothing of the beam profile with graphite filter.
Max. aperture-to-sample distance: 800mm.
x-y-z-ɷ table (xHuber): Rotation with 200 steps per grade, additional gear (20:1) can be installed.
Scintillator: Al plate (thickness 1mm), 6LiF/ZnS(Ag)/P, thickness 50μm, resolution 84µm.
5.5 megapixel

CMOS

camera (Andor Neo) with 100mm macro (Zeiss Milvus).
Field of view 30mm-100mm
L/D = 250.


PGAI:

Flux, see

PGAA

(collimated beam)
B4C aperture: thickness 6mm, diameter 2mm
Minimum beam profile (isovolume): horizontal 3.2mm / vertical 2.7mm
x-y-z-ɷ table (xHuber): see NT


More details about the NT setup can be found in [2].
Measuring conditions
The maximum sample size is 70×70×70 mm3.
PGAI can be time consumptive that is highly dependent of the sample composition and the scientific problem (which elements are requested). A measurement with sufficient statistics can be typically done in 0.5–4 hours. We strongly recommend a proper planning of the beam time together with the instrument scientists. Main components are typically measureable, but not the trace elements (an exception is for instance boron).
NT is used in combination with PGAI- or (bulk-)PGAA. In general, we don't offer NT as an independent method – but please use the opportunity to contact the responsibles of ANTARES and NECTAR in this case.
References
[1] Kluge, E. J.; Stieghorst, C.; Wagner, F.; Gebhard, R.; Revay, Z. & Jolie, J. (2018), 'Archaeometry at the PGAA facility of MLZ – Prompt gamma-ray neutron activation analysis and neutron tomography', Journal of Archaeological Science: Reports 20 , 303-306.
[2] Kluge, E. J.; Stieghorst, C.; Révay, Zs.; Kudějová, P.; Jolie, J. (2019), Optimization and characterization of the PGAI-NT instrument's Neutron Tomography set-up at MLZ, Nuclear Inst. and Methods in Physics Research, A, Volume 932, p. 1-15.
Instrument Scientists
Dr. Zsolt Revay
Phone: +49 (0)89 289-12694
E-Mail: zsolt.revay@frm2.tum.de
Dr. Christian Stieghorst
Phone: +49 (0)89 289-54871
E-Mail: christian.stieghorst@frm2.tum.de
Dr. Xiaosong Li
Phone: +49 (0)89 289-12130
E-Mail: xiaosong.li@frm2.tum.de
Operated by