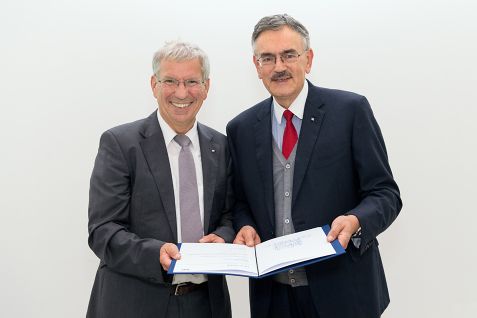 Winfried Petry (l.) receives the award from TUM-President Wolfgang Herrmann (r.). © Uli Benz / TUM
Prof. i.R. Dr. Winfried Petry has been awarded with the honorary title of Emeritus of Excellence of the Technical University of Munich (TUM). TUM-President Prof. Dr. Dr. h.c. mult. Wolfgang A. Herrmann bestowed the certificate appreciating his academic achievements on 9 October.
Winfried Petry received the honorary title recognizing his lifework during the TUM-Emeriti of Excellence general meeting at the Vorhoelzer Forum of TUM. The 67-year-old already received the Bundesverdienstkreuz am Bande (2008), the Honorary professorship of the Chinese Atomic Energy Agency (2006) and he is Honorary Member of the Kerntechnische Gesellschaft in Germany (2018). In 1992, Petry was appointed professor for experimental physics at the Physics Department of TUM, he served as its dean and was a member of the TUM-senate. Until his retirement in March 2017 Winfried Petry has been Scientific Director at the research neutron source Heinz Maier-Leibnitz (FRM II) for 17 years and since 2011 Director at the Heinz Maier-Leibnitz Zentrum.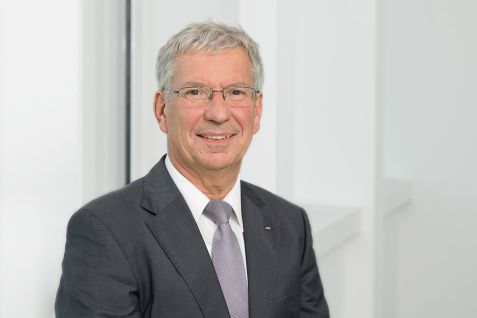 Winfried Petry is Emeritus of Excellence of the Technical University of Munich. © Uli Benz / TUM
Winfried Petry will continue his engagement at TUM, FRM II and MLZ, also in the context of his new honorary office. He supervises his PhD students intensively, advises the new Scientific Director of the FRM II, Prof. Dr. Peter Müller-Buschbaum, and gets involved with the public relations work of the FRM II.
Once a year, new members are accepted. Currently there are 67 former professors holding the honorary title. On 9 October, apart from Winfried Petry also Prof. i.R. Dr. Hermann Auernhammer (TUM School of Life Sciences Weihenstephan) and Prof. i.R. Dr. Leo van Hemmen (Physics Department of TUM) have been honoured.