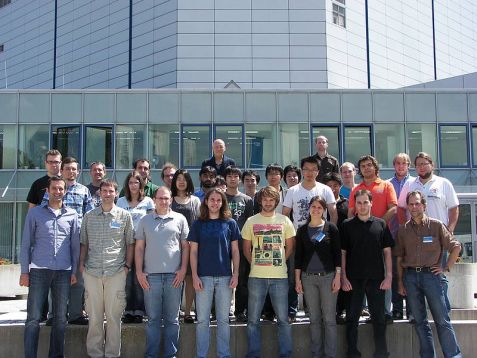 summer school
In two groups of 30 students, the Summer School visited the FRM II guided by Karl Zeitelhack (front row, right).
The 60 participants from Europe,the US and Japan visited the FRM II on the 26th and 27th July. The focus of the tour was on the detector technology of the scientific instruments.
The Summer School aimed at providing an overview on basic and advanced concepts in detection of ionizing radiation. It has a wide range of applications in nuclear medicine, particle physics and astrophysics. Karl Zeitelhack, head of the detector and electronics group at the FRM II, gave the students an insight into neutron detection and explained for example the functioning of a scintillator in neutron radiography. Among the lecturers were international capacities in detector technology as Glenn Knoll (University of Michigan), Eugene Haller (University of California, Berkeley) and Helmuth Spieler (Berkeley).
More than 60 students participated at the Summer School SSRDM 2011, which already took place for the fourth time, and marked a new record. For the first time, the Technische Universität München organized the School with Roman Gernhäuser from the chair E12 at the physics department. The one-week course was divided in lectures in the mornings and lab tours in the afternoons. Beside the neutron source other parts of the programme were the semiconductor lab of the Max Planck Institute for Physics, the nuclear medicine at the Klinikum Rechts der Isar and a historical tour in Munich. A social hour in the evenings made conversation between students and lecturers possible.