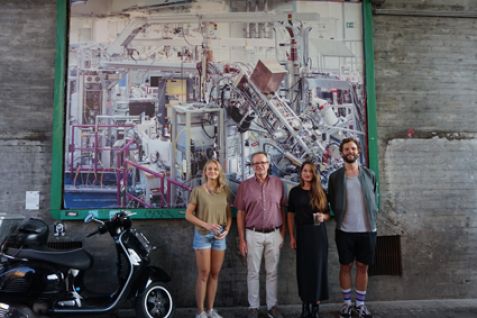 Orbitum - NEPOMUC
The students and the instrument scientist in front of the billboard (from left): Marlene Märkl, Dr. Christoph Hugenschmidt, Lisa Häberle and Felix Dick. © MLZ / TUM
The positron source NEPOMUC can be seen on a billboard in downtown Munich until the end of July. The more, a wooden model of the atomic egg is exhibited in a gallery in Augustenstraße, Munich. Both are projects from architecture students at the Technical University of Munich.
Marlene Märkl, Lisa Häberle and Felix Dick have taken pictures with a large format camera in the interior of the Heinz Maier-Leibnitz Zentrum. It was part of their architecture curriculum at the Chair for Fine Arts of TUM. "We wanted to show the technics in the interior of the neutron source to the public", explains Marlene Märkl, architecture student at TUM. They have taken several pictures of the instruments of MLZ. One of them, showing an accelerator for positrons at the instrument NEPOMUC, can be looked at on a billboard in the Theresienstraße, at the bridge from TUM crossing the street, until 30 July.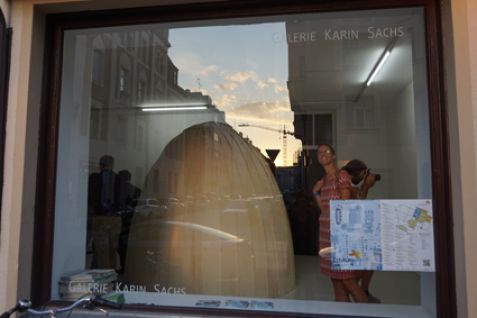 Atomic egg gallery
The walkable atomic egg is exhibited in the gallery Karin Sachs in Augustenstr. 48, Munich until 26 July. © MLZ / TUM
Another project of TUM architecture students is exhibited in the gallery "Karin Sachs" in Augustenstraße 48, until Thursday, 26 July: The wooden and walkable model of the atomic egg, with noises and explanations from scientists from the interior of the FRM and FRM II.
Both projects are part of an exhibition called "Orbitum" for the celebration of the 150th birthday of the TUM. Finnissage will be Thursday, 26 July, from 17 until 18h.