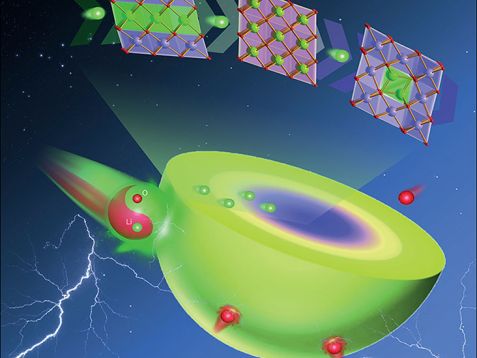 Next generation cathode
In their publication, the international research team describes the conversion process they have observed in the production of lithium-rich cobalt-free oxides. This is done by incorporating lithium and oxygen into the lithium-free predecessor material. © Hua et al.
A clear trend towards reduction of cobalt amount in Li-ion batteries can be observed over a decade. Cobalt is a part of battery cathodes, but costly, highly reactive and also geographically limited, where it is often mined under conditions that violate human rights. Tremendous efforts have been undertaken for the reduction of cobalt amount in the Li-ion batteries, which resulted in mixed nickel-cobalt-manganese (NCM) or nickel-cobalt-aluminum (NCA) cathodes commonly used in Li-ion cell technology. The cobalt-free battery is the next target, which is currently under active developments. Co-free Li-excess layered oxides are considered as potential cathode material having higher capacities and operating at higher discharge rates.
A group of researchers from the Karlsruhe Institute of Technology, the Forschungszentrum Jülich, the Technical University of Munich (TUM), the Sichuan University (China), the University of Wollongong (Australia) together with scientists from DESY (Hamburg) and ALBA (Barcelona) Synchrotron facilities has proposed a practical method of controlled synthesis of cobalt-free lithium-excess layered cathode materials and investigated the formation process, incorporation of lithium and oxygen in the host matrix, and effect of synthesis conditions on the electrochemical performance.
"These compounds are a promising candidate to be used as cathode in the next generation of lithium-ion batteries because they operate at high voltages and deliver high capacities. That means that smaller batteries could deliver more energy", says Björn Schwarz, researcher at the Karlsruhe Institute of Technology.
At the MLZ, the researchers used the high-resolution neutron powder diffraction at the instrument SPODI for the localisation and quantification of lithium and oxygen in the structure. These investigations help the researchers for a profound analysis of the relations between electrochemical properties and the structure of the materials.