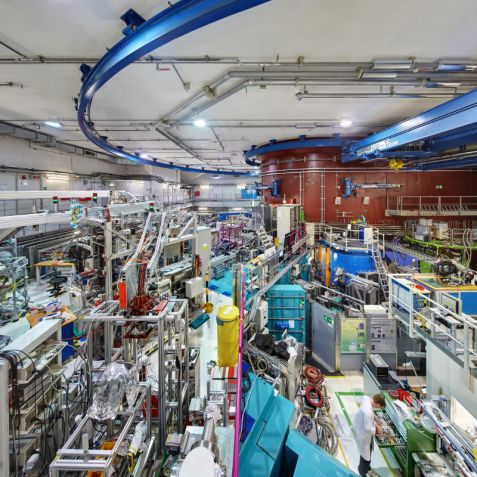 exhibition
This photo with a view into the experimental hall of the FRM II is also included in the exhibition. © Bernhard Ludewig
On 27 July at 7 pm Prof. Winfried Petry, the Scientific Director of the FRM II, will give a one-hour talk at the gymnasium in Garching. This will include a very short historical retrospect, but most of all the listeners will get up-to-date information on what is going on at the research neutron source in Garching, on current research and how the FRM II is positioned in the international research landscape. Admission is free and all interested Garchinger citizens are invited to attend. There will also be the opportunity to ask own questions and to receive competent answers.
When the research on the first German reactor in Garching began in 1957, there were hardly any people who could have guessed what would one day arise: a research center with possibilities unrivaled worldwide. That is, what the 1000 annual users say, who are making their experiments today on the successor of the legendary "Atomic Egg", the FRM II. Is this also quite clear to the citizens of Garching, what this town sounds in science today?
The fascination of research with neutrons can be felt in a photo exhibition on the occasion of the 60th anniversary. It will be open from the beginning of August until the end of September in the subway station of the city of Garching. Visitors are offered a last unimpeded view of the legendary Atomic Egg, because it is now surrounded by cranes and in the future it will be hided behind the urgently needed New Center (Galileo) and new workshop and laboratory buildings on the premises of the FRM II. A large part of the scientific interior of the "atomic egg" has already been cleared out, so the Garchingers are instead to see on a screen in the exhibition historical photos and plans from the archives and the fundus of the architecture museum of the Technical University of Munich.
The main part of the ten photos shows instruments and detail views from the FRM II, which were in the eye of the graphic artist and photographer Bernhard Ludewig – or in this case – in front of his lens. During his visits the photographer, in his special technique and pictorial language, tried to express his own enthusiasm about neutron research. The result is a lot of photos, which he wants to use in a documentary about large scale research facilities in Germany. Some of these photos are already on the webpages of Bernhard Ludewig and a special eye-candy.
There will also be a small brochure with explanations of the instruments and projects that can be seen in the photos of the exhibition.