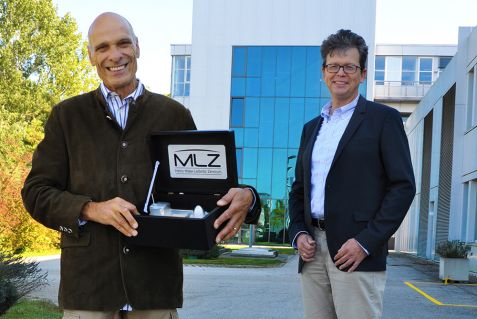 Awarding of the prize
The carefully sculpted model of the FRM II and atomic egg was presented by Prof. Dr. Peter Müller-Buschbaum (l.), Scientific Director of the FRM II and at MLZ, to Prof. Dr. Peter Böni. © Reiner Müller / FRM II, TUM
The Heinz Maier-Leibnitz Zentrum (MLZ) has presented this year's prize for instrumentation and scientific use just over the fence. The laureate, Prof. Dr. Peter Böni from the Physics Department of the Technical University of Munich (TUM), has built five scientific instruments at FRM II and MLZ.
In his commendation, the Scientific Director of the MLZ, Prof. Dr. Martin Müller of the Helmholtz Center Hereon, endorsed Peter Böni's honor: "During your 20 years as a professor at TUM, you have significantly advanced the instrumentation of FRM II." Martin Müller first heard of Peter Böni when the long-time Scientific Director of FRM II and at MLZ, Winfried Petry, spoke enthusiastically about his recruitment: "According to him at the time, it was an ideal appointment. Today you can see that was exactly right!"
Constructor of instruments and neutron user
When Peter Böni accepted the call to TUM from the Paul Scherrer Institute in Switzerland in 2001, his Chair for Neutron Scattering E21 designed, built, and supervised no less than five instruments at FRM II and MLZ:
In his laudation, Martin Müller reminded the audience that Peter Böni and his chair are also regular users of neutron beams. In 2009 for example, a PhD student in his group, Dr. Sebastian Mühlbauer, produced the first experimental evidence for magnetic vortices called skyrmions using neutron measurements on the MIRA instrument. An entire field of research has developed from this. In addition, Peter Böni is a founding member, chairman of the supervisory board, and CEO of the company SwissNeutronics AG.
Symbiosis of an intense neutron source and excellent students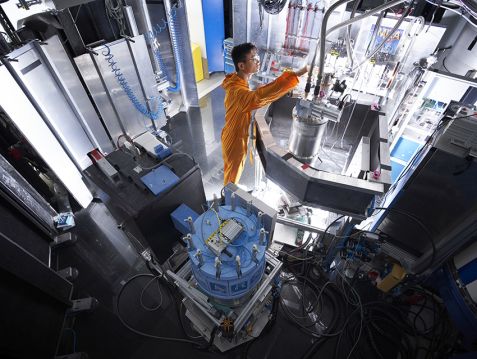 MIRA
The three-axes spectrometer MIRA, here with PhD student Ran Tang, is one of five instruments developed and maintained under the supervision of Peter Böni. © Jan Greune, MCQST
Böni said in his acceptance speech that he has always found the direct neighborhood to the research neutron source very fruitful. "One secret of this great cooperation between the university and the neutron source is the TUM students. Here in Garching, one of the world's most intense neutron sources and a campus atmosphere with excellent and very motivated students come together. This unique symbiosis has made many novel instrumental and scientific developments at MLZ possible," said the 66-year-old on the occasion of the award ceremony on September 23, 2021. "I was on the other side of the fence, but I always had access to the cage," said Peter Böni, alluding to the fencing of the FRM II site right next to the Physics Department.
Since this spring, Peter Böni has now retired, or as he himself calls it, his "second life". Now he said he has even more time for his doctoral students and is devoting himself to new ideas, especially in neutron optics. And there he hopes to develop quite a bit: better neutron optics that further increase the brilliance of neutron beams while reducing background radiation.