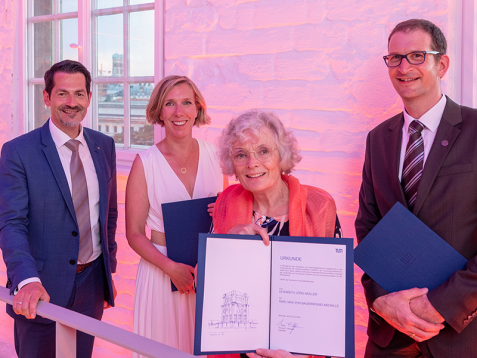 Elisabeth Jörg-Müller (2nd from right) received the prize from TUM President Prof. Dr. Thomas Hofmann (l.). Other 2022 award winners were Dr. Kathrin Dressel from the TUM Center for Study and Teaching and Dr. Andreas Bauer from the University Department for Health, Safety, Radiation Protection. © Andreas Heddergott, TUM
Elisabeth Jörg-Müller has been awarded the Karl Max von Bauernfeind Medal. With this prize, the Technical University of Munich (TUM) honors the "proactive and extra-mandatory commitment" of the assistant to the scientific directors at the FRM II.
The TUM awards the Karl Max von Bauernfeind Medal to "individuals and groups who have rendered great service to the university through their exceptional dedication, innovative ideas and valuable suggestions". Elisabeth Jörg-Müller has "taken on responsibility, championed the interests of neutron research and transparent communication within TUM, with (external) partners and society," according to the TUM university presidium's statement of reasons.
Door opener for international collaborations
The entire Heinz Maier-Leibnitz Zentrum and the Research Neutron Source are pleased with Elisabeth Jörg-Müller, because they have known and appreciated her here since FRM II was powered up for the first time.
After studying German and French at the Ludwig-Maximilians-Universität in Munich, Elisabeth Jörg-Müller went into business for a short time. Then, she accepted the position of assisting Prof. Dr. Franz Schwabl at the TUM chair at the Physics Department. From there, she moved to FRM II in 2004. "In her job, her excellent knowledge of French and English were door openers for international collaborations, especially with the French sister institute Laue Langevin (ILL) in Grenoble," says Prof. Dr. Winfried Petry, long-time Scientific Director of the FRM II and Elisabeth Jörg-Müller's supervisor.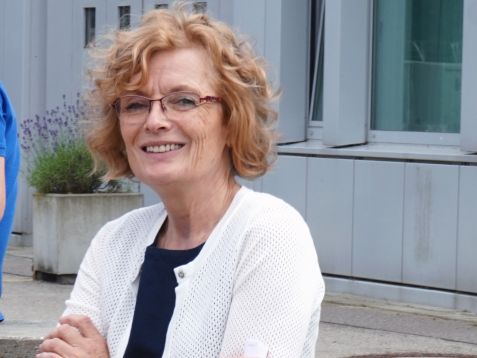 Always modestly in the background - this is how Elisabeth Jörg-Müller organized events at the FRM II and MLZ until her retirement in 2021. © Wenzel Schürmann, FRM II / TUM
Empathetic, discrete and competent
With great enthusiasm, she organized conferences and workshops always with a comprehensive eye for detail. Modestly, she herself always remained in the background. Elisabeth Jörg-Müller reliably and proactively took care of everything from abstract booklets and posters to financial planning. One of her many strengths always stood out, which not only Scientific Director of the FRM II, Prof. Dr. Peter Müller-Buschbaum, as her last supervisor, but also the whole staff of the FRM II and MLZ as well as its external contacts appreciated very much: her talent for communication. Within the FRM II as well as externally, she is known as a polite, always friendly and empathetic contact person, who is appreciated for her competent advice, absolute discretion and mediation. Even in her retirement since 2021, Elisabeth Jörg-Müller is always approachable for her colleagues, constantly up to date and maintains lively contact with the research neutron source.