Bright LEGO and colorful balloons – FRM II and MLZ on the Highlights of Physics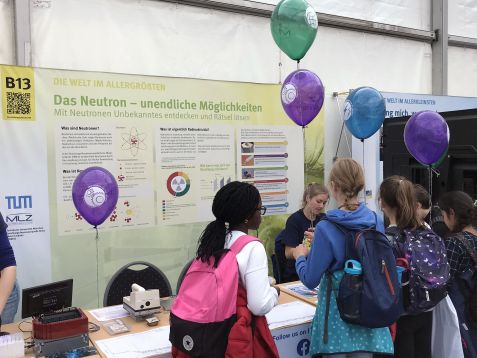 Coloured helium balloons
Coloured helium balloons at the stand for young and old © Anke Görg (FRM II/TUM)
"The neutron – infinite possibilities." FRM II and MLZ presented themselves under this motto at this year's Highlights of Physics. The science festival took place from 16 to 21 September at several locations in Bonn and attracted around 60,000 interested visitors with its various exhibits, lectures and interactive activities.
The science festival Highlights of Physics has been inspiring thousands of visitors for 19 years with its varied programme, which is reflected in various exhibits, exciting lectures, science shows and many hands-on activities for children and adults. This year's venue was the Beethoven city of Bonn. Under the motto "ZEIG DICH! Making the Invisible Visible", numerous research institutes presented themselves at several locations in Bonn's city centre from 16 to 21 September. These included the Heinz Maier-Leibnitz Zentrum (MLZ) and the research neutron source FRM II, which was launched for the second time at this festival after Wuppertal in 2013.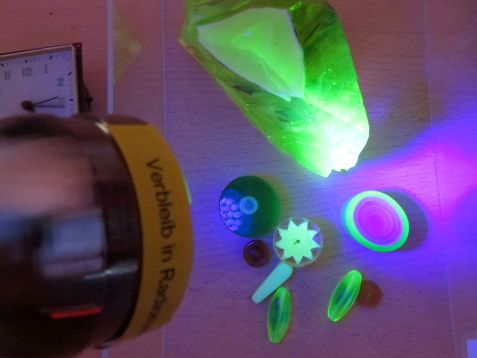 Uranium glass under black light
How it glows! Uranium glass under black light. © Luisa Heyer (FRM II/TUM)
The curiosities at the MLZ and FRM II stand in the tent city on Münsterplatz attracted numerous visitors from Monday to Saturday and caused astonished faces and shining eyes. What do ibuprofen, truffles and dinosaur eggs actually have to do with neutrons? And why is there a bowl with banana chips next to neon green uranium glass? According to the motto "The Neutron – Infinite Possibilities", the interested audience learned everything about the research neutron source and the current research projects. The radioactivity station in particular caused a lot of amazement. Here, visitors could use a measuring device (Kontamat) to determine the radioactivity of various everyday objects and foods such as granite stones, uranium glass, Brazil nuts and banana chips themselves. The motorized LEGO model of the TRISP three-axis spectrometer was also a real eye-catcher with its colorful flashing LEDs. And a brightly coloured helium balloon also convinced the youngest event visitors of the MLZ.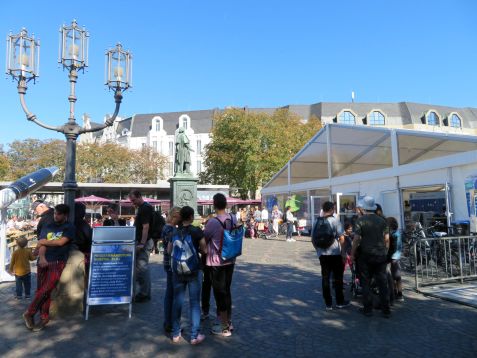 Exhibition at Münsterplatz
Many people visited the exhibition at Münsterplatz in Bonn. © Luisa Heyer (FRM II/TUM)
In addition to the large exhibition at Münsterplatz, there were several lectures, a science slam, workshops and science shows with live experiments every day. In the school competition "exciting physics", which lasted several days, young people from a total of eight German states were able to present their inventions.
With around 60,000 visitors, this year once again demonstrated just how successfully the "Highlights of Physics" have been received by a wide audience. Over 4500 visitors attended the first evening event in the Telekom Dome, which was moderated by Federal Research Minister Anja Karliczek and TV presenter Ranga Yogeshwar. This great fascination for physics on the part of the public was particularly appreciated by the event's organizers – the Federal Ministry of Education and Research (BMBF), the German Physical Society (DPG) and the University of Bonn.
Also in the coming year the organizers will put together a proper program for all physics enthusiasts. The 20th edition of "Highlights of Physics" will focus on the 175th birthday of Wilhelm Conrad Röntgen.

Bonn's city centre
Exhibition at Münsterplatz

Opening show


At the stand

LEGO model of TRISP

Radioactivity station

Uranium glass under black light

live experiments

The physicists