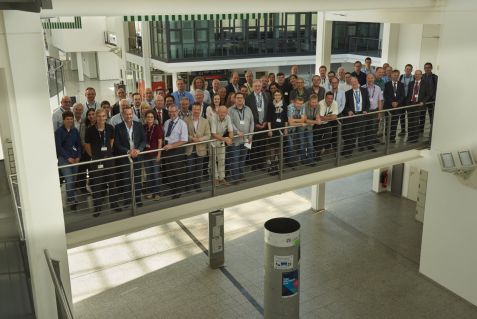 VDI-Expertenforum 1
Also the 6th VDI-TUM Experts Forum met with the interest of many participants of companies. © W. Schürmann / TUM
The VDI-TUM Experts Forum, which is organized at intervals of 2 years from the VDI and the FRM II, took place at the Campus Garching on 15 September 2016. As always, it was fully booked and the organizers of the Technical Committee "Application-oriented non-destructive material and component testing" were again able to offer a whole range of exciting talks. The event was moderated by Dr. Ralph Gilles (TUM). This time the focus was on high-performance materials and their non-destructive testing.
Besides enormous applications and operation scenarios high-performance materials and technologies also come up with great challenges and high demands on the non-destructive testing. The numerous short talks devoted to the question how both can be used – established testing techniques such as ultrasound, thermography, tomography and residual stress analysis as well as new, still in the development process as the 3D terahertz imaging or analysis by neutron scattering methods.
Composite materials, special alloys and exotic metal forming for airplanes, medical products and many other applications were the subjects to be talked about. Many of these materials and also the corresponding testing methods are developed to reduce costs in material and service. Completed were the numerous talks of industrial users by some results of recent research, e.g. of lithiation/delithiation in Li-ion batteries or strain determination in railway tracks.
The final discussion, moderated by Prof. Petry was, according to the high participation of companies, very agile. It turned substantially about the crucial issues at every testing method: Do I understand the material? Do I understand the method? Do I understand the component in its function? All participants agreed that the answers to these questions determine which methods are useful for the corresponding material.
The 7th VDI Experts Forum is already being planned and will be held in 2018.