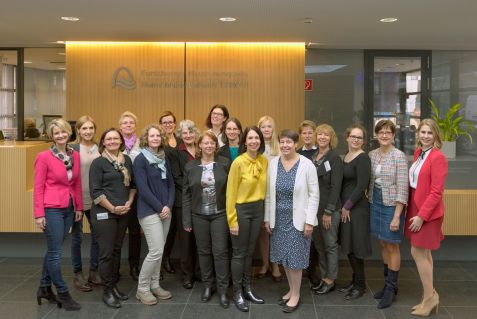 Women in Nuclear 2018
The General Meeting of the worldwide association "Women in Nuclear" (WiN) was held at the FRM II, from 22 - 23 November 2018. © FRM II / TUM
At the end of November the German Chapter of "Women in Nuclear" (WiN) held its Annual General Meeting at the FRM II. WiN is a worldwide association of women working in the field of nuclear techniques and industries as scientists or engineers, or in other functions.
A one and a half day program was organized in order to make this AGM a special event: As well as the legal obligations of reporting and electing a new president, there was a guided tour through the research reactor by its Technical Director and a prize awarding ceremony for Bianca Schacherl, a master student at KIT who won this year's WiN Germany Prize for her outstanding master's thesis on "Structural investigation of Np interacted with illite by HR-XANES and EXAF".
Furthermore, former and current female employees of FRM II gave short talks on their specific careers in the nuclear sector, showing the broad variety of activities this sector also offers to women.