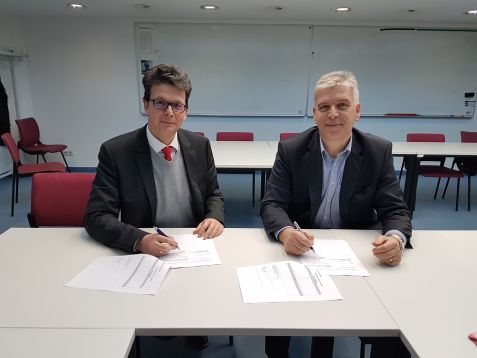 Contract ESS
The two FRM II Directors, Prof. Dr. Peter Müller-Buschbaum for Science, and Johannes Nußbickel for Administration, signed the contracts with the ESS in March. © FRM II / TUM
The Technical University of Munich (TUM) is participating in the construction of two measuring instruments at the European Spallation Neutron Source (ESS) in Sweden. The Federal Ministry of Education and Research (BMBF) is funding this project, with material and human resources, to the tune of around 15 million euros. Now the people responsible at the ESS in Lund and the FRM II in Garching have signed the contracts of cooperation.
Scientists and engineers at the Heinz Maier-Leibnitz Research Neutron Source (FRM II) have been working on the design of two measuring instruments for the neutron source under construction in Sweden since 2016. "We can contribute our very large and long-standing experience in the construction of neutron instruments", says the Scientific Director of FRM II, Prof. Dr. Peter Müller-Buschbaum.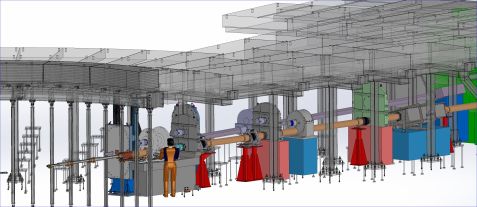 Instrument ODIN
The instrument ODIN will have chopper discs of up to 1.5 metres in size, the construction of which will be the responsibility of the scientists and engineers at TUM. © Modell: Elbio Calzada (FRM II/TUM)
Specifically, the Cold Chopper Spectrometer (CSPEC) will be set up. The instrument will, for example, be able to measure diffusion processes in energy materials and will be developed jointly by scientists from FRM II, the Laboratoire Léon Brillouin (LLB) in France and the ESS. FRM II has 8.25 million euros in funding available for this purpose. The TUM scientists and engineers are primarily responsible for setting up the neutron guide, which is more than 160 metres long, and the neutron detectors. "The measuring instrument will become a kind of workhorse for scientists," says Dr. Wiebke Lohstroh, head of the Instruments Group at FRM II.
In addition, FRM II scientists and the Swiss Paul Scherrer Institute (PSI) are building the ODIN (Optical and Diffraction Imaging with Neutrons) radiography facility in Sweden. The BMBF is providing 6.9 million euros for FRM II services. ODIN will be very versatile and will, for example, make material fatigue in metals visible. "A special feature of ODIN will be that its wavelength resolution will be flexibly adjustable. There is still no neutron radiography system in the world that can do this," says Wiebke Lohstroh. Dr. Aureliano Tartaglione as a scientist and an engineer from TUM are responsible not only for shielding the colossus, which weighs around 1000 tons, but also for the ten so-called chopper discs in the neutron guide, which can filter out neutrons of a certain wavelength from the original "white" neutron beam, similar to white light. "These large rotating discs, which will have a diameter of up to 1.5 meters, are a real design challenge," says Aureliano Tartaglione.
Compared to a continuous neutron source like the FRM II, a spallation neutron source has a pulsed neutron beam. ESS will produce first science in 2023, and the two instruments set up by TUM will be among the first eight experiment stations.