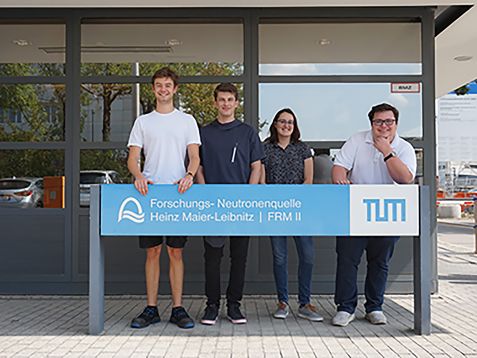 The four apprentices, who successfully have finished their job formation at the FRM II in 2018 (from left): Ludwig Kitzinger, Alexander Grosch, Lea Kleesattel and Paul Zühlke. © FRM II / TUM
They praise the versatility, the opportunity to try something and the friendly colleagues: The research neutron source has sent four apprentices into professional life this year. The three young men and one woman have learned specialized computer science and mechatronics in Garching.
For two years, Paul Zühlke has commuted daily for three hours between his hometown near Nördlingen and Garching. "I wanted to get out of the small town", says Zühlke. In the IT Service Group of the FRM II he and Alexander Grosch have learned specialized IT systems integration. "It was a good time. We had friendly colleagues and could try new things," the two say in unison.
Lea Kleesattel began her training as an IT application specialist in 2015. In Jens Krüger's group she has programmed a lot for the scientific instruments. "I've always learned something new," says the former German champion in air pistol shooting.
The fourth apprentice, who completed his training at the Research Neutron Source in 2018, is Ludwig Kitzinger. Living in Ismaning, he thinks it is "meaningful to take a recognized occupation requiring a formal training to gain practical experience." His mechatronics training not only took him to the two workshops at the FRM II with Uwe Stiegel and Christian Herzog, but also to the Maier-Leibnitz accelerator and the Physics Department of the Technical University of Munich. The 20-year-old very much liked a two-week internship, which he completed as part of his apprenticeship at the French equivalent of the FRM II, the Institut Laue-Langevin.
What are the four doing after their time at FRM II? Two remain faithful to their instructor: Lea Kleesattel wants to expand her knowledge as a specialist in computer science "once more here" and takes care of the instrument control. Alexander Grosch, too, is now a specialist in IT service at the research neutron source. the third specialist in computer science, Paul Zühlke, now works closer to his hometown, at Hama GmbH. He has taken up a dual degree in business informatics. After completing his degree, mechatronics engineer Ludwig Kitzinger remained in the light water group at FRM II for a while, after which he continued his education at the upper technical vocational school in Unterschleißheim. His goal is to take up academic studies.
There is one new apprentice at the FRM II in the IT service group this year. Another one in the IT service group of Jörg Pulz is in his second year of the training.