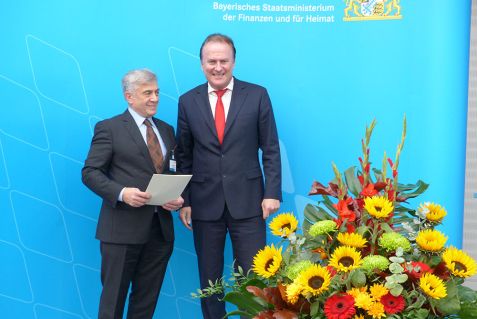 Handing over the certificate
Director General Dr. Alexander Voitl (r.) hands over the certificate for the invention to Ismail Zöybek. © Bayerisches Staatsministerium der Finanzen und für Heimat
Ismail Zöybek has again been awarded for his ingenious invention for wastewater treatment at the research neutron source FRM II. This time the Bavarian State Ministry for Home and Finance awarded FRM II's technician during an innovation congress in Nuremberg.
According to Ismail Zöybekl, they were "the happiest people in the hall" when he received the certificate from Director General Dr. Alexander Voitl, Director of the FRM II Administration Johannes Nußbickel, Malte Kreß, Head of the Mechanical Engineering Division.
In 2018, Ismail Zöybek made the headlines with his invention of a filter system for medium-level radioactive waste water at the FRM II and received a prize in a letter from the Bavarian Minister of Science. The "simple idea", as Ismail Zöybek calls his innovation, saves the research neutron source 800,000 euros annually. Instead of having to dispose of several drums of medium-radioactive liquid, they use polyester needle felt bag filters sewn at the FRM II, which filter the radioactive ions out of the wastewater. The water itself can be discharged into the Isar in accordance with the FRM II's water rights notice – since it is only weakly radioactive. The invention also protects the environment and saves employees in the "Light Water Systems" group from unnecessary radiation doses.
Bavaria's highest bonus for the FRM II employee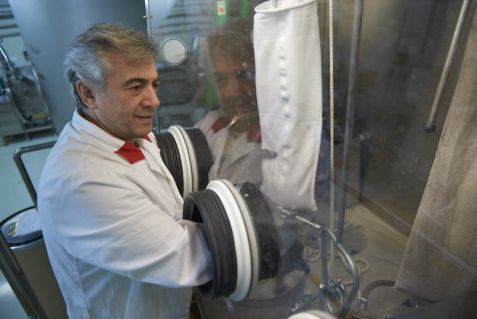 Ismail Zöybek when handling the ion exchange bags
Ismail Zöybek when handling the ion exchange bags, through which the water is pumped to the desired degree of purification. © W. Schürmann / TUM
In September 2019, Ismail Zöybek received another letter from a Bavarian ministry: This time Finance Minister Albert Füracker invited him to an innovation congress. The 15 best innovations from the Bavarian administration of the past three years were to be honoured at the Ministry in Nuremberg, where inventors presented their ideas to an invited audience. The ministry's idea, according to the organising department "Verwaltungsrefom" is that "We not only want to honour the employees, but also sensitise others, e.g. superiors in the administration, to the topic." Ismail Zöybek was once again very surprised and felt even more honoured. On the day of the congress, 14 October, he received the highest award from the 15 awarded inventors from the police, administration and environment sectors.
In addition to a short lecture, Ismail Zöybek, with the help of FRM II Administrative Director Johannes Nußbickel and his supervisor Malte Kreß, presented his ingenious idea at a stand in the atrium of the Ministry. The approximately 140 invited guests showed lively interest in the offer of the research neutron source from Garching. "Many were thrilled that such a simple proposal could save so much money," says Ismail Zöybek, who had brought his filters with him. The guests also asked a lot about the current research at the FRM II.
Prize money as a wedding present
Ismail Zöybek has already passed on the 8000 Euro prize money to his daughter as a wedding present, who got married in August. However, he will keep the certificate for a long time to come. "I will frame it and hang it up at home," says Ismail Zöybek. "It's worth a lot to me that my invention was recognized."