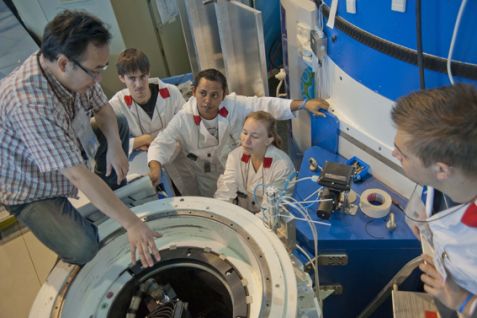 Neutron Schools
Neutron Schools for Students like the Neutron Lab Course of JCNS are supported by EU via NMI 3.(Photo: Wenzel Schuermann)
This grants access for European users to the FRM II. Furthermore, the development of neutron research methods and instrumentation components are promoted financially.
"The amount of the financial support has even increased by a third to nearly 2.9 Millon € reflecting our growing commitment on the European level," says Dr. Jürgen Neuhaus, deputy scientific director at the FRM II and coordinator of the NMI 3 project at the Technische Universität München (TUM).
Starting on February 1st for another four years, the FRM II is granting access to its experiments within the EU consortium research named "Integrated Infrastructure Initiative for Neutron Scattering and Muon Spectroscopy (NMI3)" for European scientists together with its German partners, the Helmholtz-Centres in Jülich and Geesthacht. About half of the budget is used for 462 days of beamtime for European researchers.
A quarter of the funded means is planned to be invested for technical and methodical development. For example, researchers at the TUM neutron source are taking part in ameliorating imaging processes. Because of the very special qualities of neutron beams, magnetic structures within solid state matter will be detected three-dimensionally. Another subproject consists of developing a resonance-spin-echo-method for the new spallation source in Lund, Sweden.
Quickly working sample changers for experiments at cryogenic temperature for the automated data acquisition are going to be constructed. Thus researchers will be able to even better exploit the precious neutron scattering time in the frame of the new funding period. Besides the scientists in Garching will join in the design of a novel detector which is to replace the almost exhausted gas helium-3.
The total budget of the NMI 3 project, in which 18 partners from 12 European countries are engaged, comes up to 13.35 Million €. The project also comprises some networking initiatives, coordinated by the FRM II. For instance, the complete public relations are managed at the FRM II. The teaching, a real concern of TUM, is also pushed forward in close coordination with the University of Copenhagen, Denmark and the Institut Laue-Langevin in Grenoble, France. An e-learning platform for neutron scattering will also be supported by the fund.