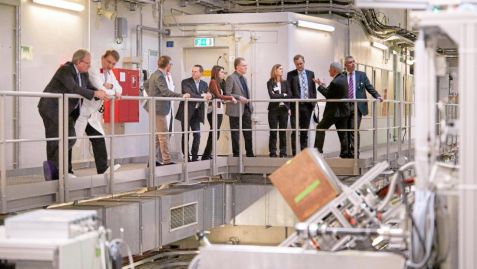 Visit Landratsamt Freising
During a tour, visitors were able to take a look at the experiment hall, among other things. © Wenzel Schürmann/TUM
During the several-hour tour, Josef Hauner was enthusiastic about the many applications of Garching's neutrons in medicine, industry and research: "It was very instructive and exciting," he said. The visit was conducted by the Manfred Danner, who is fire district counselor of the Freising district and full-time deputy shift supervisor and reactor driver at FRM II.
"I could not say what happened in the long-standing atomic egg in Garching earlier and what is happening here today," said the district administrator at the beginning. For decades, the Freising man would have driven the site right behind the county boundary and have seen how it develops. "It grows and grows – Google Maps can not grasp what's happening here."
Dr. Anton Kastenmüller, Technical Director of FRM II, explained the history to the guests. "The atomic egg is the germ cell that has promoted the growth of this campus." Just over a year after the Free State of Bavaria decided to set up a research reactor, it went into operation at the Garching site on October 31, 1957. After 43 years of material and basic research, the reactor was shut down. Because it was a listed building, the landmark of the city of Garching is currently being gutted. Next door, a new neutron source was built in which the first nuclear fission took place on March 2, 2004.
One single fuel element with 8.1 kilograms of uranium and a thermal output of 20 megawatts generates neutrons. In order to be able to use the "dimensional difference", Kastenmüller compared the numbers of the nuclear power plant Isar II: 193 fuel elements, more than 100 tons of uranium, 3950 megawatts.
The three directors of the FRM II led Hauner and departmental and department heads of the district office of Freising to the measuring instruments in the experimental hall. There, Scientific Director Prof. Dr. Winfried Petry explained, how neutrons are used in search of new superconductors or how positrons, the antiparticles of electrons, are generated. With the view on the reactor basin, visitors learned from Dr. Anton Kastenmüller more about the safety concept of the neutron source. Administrative Director Johannes Nußbickel explained the commercial use of neutrons, which, for example, produce radioactive isotopes for nuclear medical treatment.
The interested visitors from Freising were able to return home with a lot of information. "We have here a modern large-scale research facility on the doorstep, about whose scientific excellence and safety we were able to personally convince ourselves," said Hauner.
Text: Robert Stangl /Landratsamt Freising