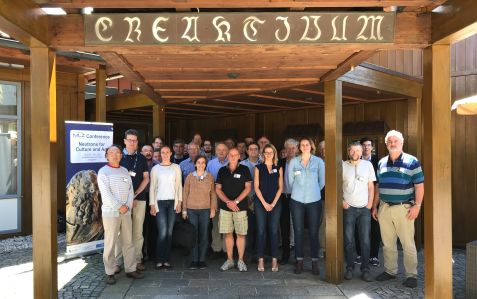 Group photo Conference
Group photo of the MLZ Conference Neutrons for Culture and Art 2018 in Lenggries. © MLZ
The international MLZ Conference 2018 "Neutrons for Culture and Art" was held at beautiful Lenggries, Germany, not far away from Munich in southern Bavaria between June 19th and 22nd, 2018. More than 40 scientists and staff members of several museums had accepted the invitation and came together for this meeting at the Arabella Brauneck Hotel.
The conference was a platform for presentations of the museums' work on preservation and restauration of art and cultural objects as well as the scientific methods they used to answer their questions on the one hand and the possibilities large scale neutron facilities can provide to support and develop this kind of research and help to conserve and examine our cultural heritage on the other hand.
Experts in the fields from Italy, France, Hungary, the United Kingdom, Austria, Russia, Portugal, Denmark, Switzerland, and Germany presented their work. All of them agreed on the fact that the use of neutron scattering, spectroscopy, irradiation, and imaging methods as analytical tools for the characterisation and understanding of cultural objects and art needs strong interdisciplinary activities between the different communities. Their talks dealt with a broad range of those objects: From historic weapons and armours, coins, amulets, religious objects to paintings, ancient amphorae, and bronze objects.
The conference led to a multitude of inspiring and fruitful discussions with a strong outlook towards the perspectives neutron methods and applications can provide to tackle important problems and questions in culture and art. All participants came to the agreement that the conference provided a highly requested forum to interact and exchange ideas, to distribute results and knowledge, and develop the connections between the two communities. The conference showed the great perspectives neutrons offer for the challenge of understanding ancient technologies, cultural work, and – most important – the preservation of artefacts for future generations.
Text: Dr. Thomas Gutberlet, JCNS / Dr. Ina Lommatzsch, MLZ