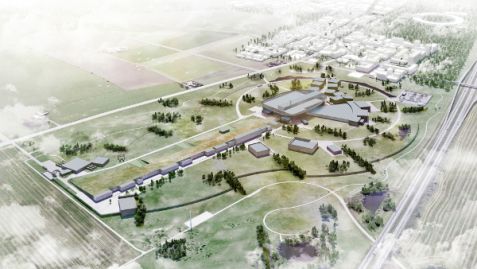 Model of future ESS © ESS/Team Henning Larsen Architects
As of today, the European Union rises the neutron source European Spallation Source (ESS) in Lund, Sweden, which is under construction, to a European Research Infrastructure Consortium (ERIC). The legal form ERIC facilitates the joint development and operation of research infrastructures of European interest, for example by direct control and financing by the participating states. So far, the European Spallation Source was operated as a Swedish-Danish limited liability company, now it is run by an a council, consisting of representatives of currently eleven member states. Member States of the European Spallation Source ERIC are in addition to Germany, of course, Sweden and Denmark, but also France, Italy, Czech Republic, Estonia, Hungary, Norway, Poland and Switzerland. Belgium, the Netherlands, Spain and the United Kingdom also plan to participate in it.
The European Spallation Source is one of a new generation of neutron sources, in which the free neutrons are produced by bombarding suitable targets – e.g. lead or tungsten – by high-energy protons. A self-sustaining chain reaction does not happen in this reaction. Instead, it will use a high-power linear proton accelerator to produce brilliant neutron beams that open up completely new research opportunities, last but not least for the industry. German scientists have participated since 2010 in the planning of the instrumentation. In the current design phase, they continue to play a significant part, especially the construction of six already approved new instruments which are part of the German contribution. The MLZ with its partners is at it too: the TUM (FRM II) will develop and build two instruments, the FZJ three and the HZG one instrument. The Forschungszentrum Jülich coordinates the German contributions.
In addition to the new research opportunities all participating states expect from the construction and operation of the plant itself impulses for the economy across whole Europe. The first neutrons are expected for 2019, the first experiments are scheduled for 2023.