Brazil nuts and balloons in the Garching community centre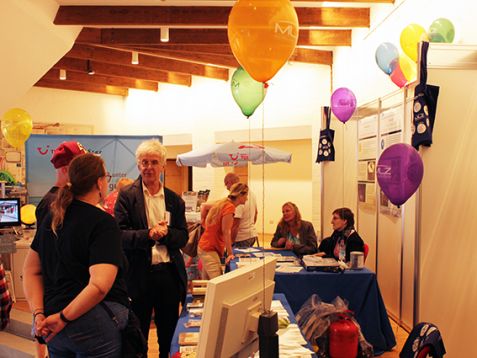 Garchinger Herbsttage - Stand
The FRM II and MLZ stand in the entrance area of the Garching community centre. © FRM II / TUM
The Heinz Maier-Leibnitz Zentrum and FRM II took part in the Garching Autumn Days with a newly designed stand. In addition to numerous citizens of the university town, Garching's mayor also informed himself about current research at the MLZ.
The 7th autumn fair took place last weekend in and around Garching town hall. Traditionally, the FRM II operates a stand in the entrance area and there was plenty of time to speak with individual interested citizens of Garching.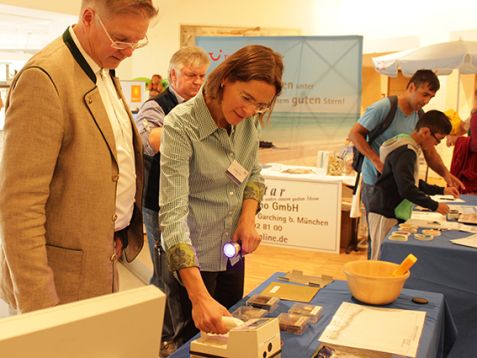 Garchinger Herbsttage - Mayor
Dietmar Gruchmann, Mayor of the City of Garching, was informed about radioactivity in everyday life. © FRM II / TUM
Many inquired about the current status of fuel element transports and the application for the water right permit. Research and medical applications, such as tumour treatment with radioisotopes, also interested most of the visitors. Garching's mayor Dietmar Gruchmann (SPD) also visited the FRM II stand.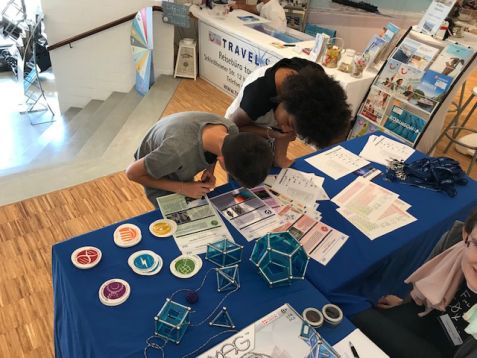 Garchinger Herbsttage - Geomag
Children could build chemical elements using magnetic building blocks. © FRM II / TUM
This year, the Heinz Maier-Leibnitz Centre and the Research Neutron Source offered children the opportunity to assemble their favorite chemical element using magnetic building blocks to create an electron shell and a nucleus containing protons and neutrons. Both adults and children were interested in determining the radioactivity of banana chips, Brazil nuts, artificial fertilizers and granite stones with measuring instruments. There was a quiz for our diligent visitors who had read through the posters on research topics. The little ones enjoyed balloons filled with helium. Brochures, information material and films rounded off the offer and for those interested in visiting the neutron source itself, flyers were available for the FRM II Open Day on 3 October.