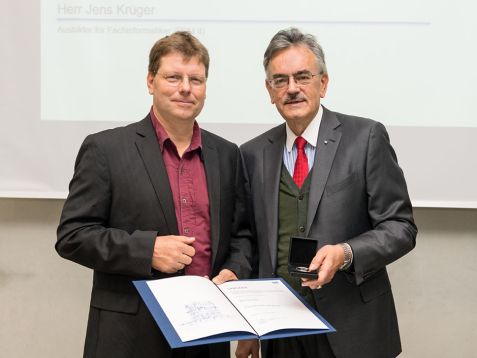 TUM-President Prof. Dr. Wolfgang A. Herrmann honours Jens Krüger with the August Föppl-Medal for his merits in the education of trainees. © Uli Benz / TUM
Jens Krüger, head of the instrument control group at the Heinz Maier-Leibnitz Zentrum and instructor at the Technical University of Munich (TUM), was awarded the August Föppl-Medal during the dies academicus for his extraordinary work as a trainer.
Jens Krüger has trained apprentices here at TUM since 2002 and to date he has taken 20 trainees under his wing. All of them praise him because of the effort and commitment he offers them every day. It is not surprising that his trainees graduate with especially good grades. His extraordinary accomplishments and engagement were recognized by TUM with the August Föppl-Medal awarded to him during the dies academicus by Prof. Dr. A. Herrmann. This Medal was founded in 2002 and honours special commitment in training.
Krüger is head of the instrument control group at the Heinz Maier-Leibnitz Zentrum and as a result all his trainees are able to participate in current research. It is especially important in an environment like this to ask questions and try to find the root of problems, something the physicist encouraged his trainees to do. For him it is important "to teach them self-reliance". "They should not only pass the exams but also learn and remember skills beyond that", he explains. Lea Kleesattel, Jens Krüger's former trainee and now his coworker at the instrument control group, agrees with him. "It was an instructive time during the training and very divertive. I was able to work on my own. He always showed appreciation and interest for questions."