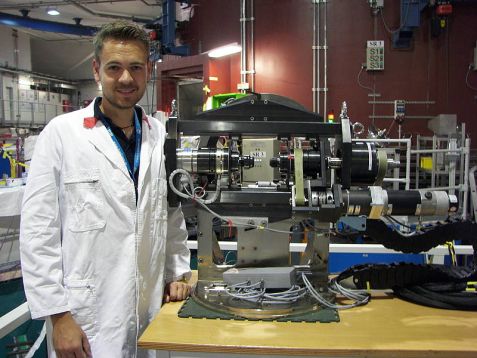 Christoph Berkel
The mechatronics Christoph Berkel and the testing machine, which was sold to a research laboratory in Canada.
Two years ago during a working visit to the Research Neutron Source in Garching, a Canadian researcher became aware of this machine. With it scientists examine by means of neutrons, how materials react to extreme stresses such as stretching, compressing or twisting. The foreign researcher was impressed and ordered a copy. Thus, Christopher Berkel was commissioned to build a machine for a Canadian research center at Chalk River.
Phillip Jüttner from the construction department of the Research Neutron Source designed the components that were manufactured in the central workshop of the Physics Department at the Technical University of Munich. During the subsequent assembly of the components, the installation of control technology as well as the commissioning, the trainee was supported by his colleague Günther Seidl, instrument technician at the diffractometer STRESS-SPEC. The required knowledge in electrical engineering Christoph Berkel learned from his training supervisor Josef Pöllner of the TUM-Faculty of Mechanical Engineering.
Because of his excellent performance Christopher Berkel could shorten his apprenticeship. His journeyman's piece showed again that he has successfully passed the relevant training sections mechanics, electrical and control engineering. Christoph Berkel remains at the Research Neutron Source in Garching: Since June 2012, he joins the team Sample Environment of Dr. Jürgen Peters.