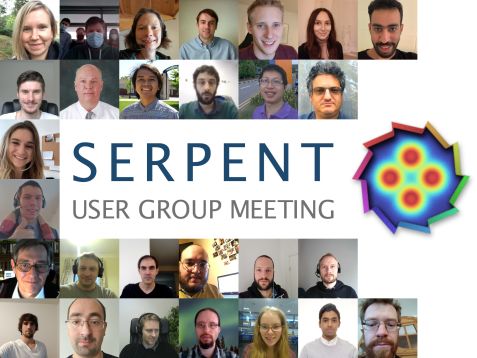 Attendees of the Serpent User Group Meeting
There was no group picture for the 10th Serpent User Group Meeting, but at least some of the participants smiled for the camera in the virtual room. © FRM II / TUM
Presentations, intensive exchange and stimulating discussions made up the 10th Serpent User Group Meeting. 174 participants from 28 countries came together virtually at MLZ to exchange information about the "Serpent" software used for modelling the neutron physics and behaviour of nuclear reactors.
Serpent as an important tool
As a modelling software, Serpent is an important tool for simulations and calculations of the neutron physics and behaviour of a nuclear reactor. The VTT Technical Research Centre of Finland develops the software and many scientists worldwide use it to analyse the neutronics inside a nuclear reactor. Serpent can investigate a wide range of scenarios and answer questions important to FRM II, such as: What is the power distribution in the reactor? How is the neutron flux distributed in the core? Can the fuel rod be operated for the planned 60 days?
Suggestions for further development
Each year, the meeting is held at different institutions. In 2020, the Heinz Maier-Leibnitz Center hosted the conference virtually due to the pandemic. From October 27th to 30th, Serpent developers as well as its users participated in the conference sessions, which allowed for many productive exchanges and interactions. The speakers presented new functions and possible uses of the software, which were then discussed in detail. This helped developers gather suggestions, criticisms, and wishes in order to further develop Serpent and expand its possible use cases.
Significantly more participants than expected
The virtual format offered advantages over the previous years' conferences. While it was more difficult to meet with new colleagues in person, it gave significantly more people the chance to participate. Instead of the usual 30-40 participants, 174 developers and users from 28 countries attended. Long journeys were spared, and so the organizers around Dr Christian Reiter from FRM II were able to expand the range of presentations. In order to enable personal discussions despite the physical distance, there was also an event for informal conversations in addition to the lectures.